Celebrating 30 years 1987-2017

---
You are Not Stuck with

Autodesk, PTC and Siemens Subscription Only!


There are Other Options.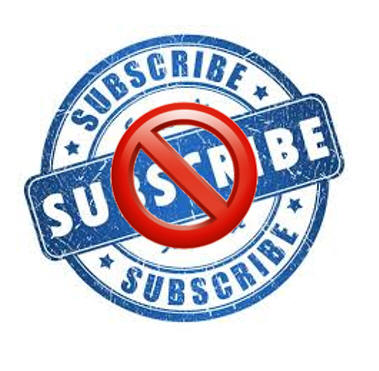 "CAD subscription only, is a very bad business decision. It is like getting married to someone you can't control and almost impossible to divorce after a few years."
---
---
Update 4-25-19

It looks like Siemens NX is now moving to subscriptions only. They disguise it as:


"NX Continuous Release"


Update 1-21-19


An associate and customer had been using Fusion 360. There was a glitch and he lost access to his account for, get this, a full month. He was livid. Luckily he was using the CNC only and had a another program to fall back on. It took him another month for them to make it right.
This is another from upFront.eZine. We all know why they moved to subscription and the reality is finally starting to hitting. Take a look at this horror show.
So now Autodesk has removed my original order for my purchased license of 3DS Max 2014 (a perpetual license), and also completely removed my AutoCAD 2014 perpetual license from my product lists. Both are now unavailable.

Autodesk, in effect, has stolen my perpetual licenses. Granted both versions were 2014 releases but I've spent a lot of money on plug-ins for 3D Studio Max that no longer work with 2019, 2018, or 2017, which is all they now offer. In total, I've spent around $8,620 just for the big items, not including all of the small Mental Ray items for 3D scenes for 3DS Max.

After Thanksgiving 2018, I loaded a trial version of 3DS MAX 2019 just to see what was new. The result was Autodesk modifying my 2014 version of Max to a subscription and so it will no longer load. Now I'm paying $202 monthly for something I owned. Autodesk no longer cares for the user as they once did.

They kept the price for 3DS Max the same as a core value. It's still one of the most expensive applications for 3D animation on the market following Maya, also by Autodesk, and a few others. Some have reported receiving checks from Autodesk. It's hard to claim without a copy of the original order as they modify all old orders.

The war has begun. I'm looking for a class action lawsuit.

- Troy L Cagle (on WorldCAD Access)


Update 9-20-18
Many of the Autodesk products prices have increased. Once you are on a subscription you are at their mercy. Not scared yet?
---

This article started out as a introduction of IronCAD and ZW3D as viable cost effective replacement options to Autodesks and PTCs Subscription only policy. But it has developed into a study in whether this option is even viable due the proprietary nature of the engineering data created.

Again I reference two of Ralph Grabowskis articles in his upFrontezin.

Ralph points out the increased cost and the effect it has on the third- party developers that are involved with the subscription only option. It seems like Ralph and I are the only ones that see the problems with this marketing scheme.

Autodesk Wasn't Adobe, After All



Here is a bit of feed back Ralph got on the above article.





Readers Respond to Autodesk's Subscription Woes



So there you go, more reasons to not put your engineering data or intellectual property under the control of these potentially unstable corporations!

---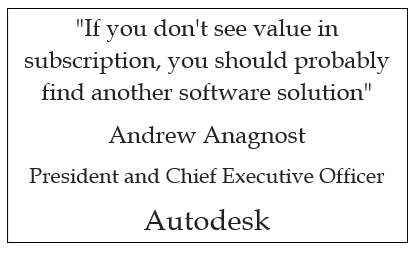 The above quote came from the Autodesk University 2017.
I watched the Keynotes and didn't see it. It was reported in Ralph Grabowski's
upFronteZin below:
My Notes on Autodesk University 2017, Las Vegas
I took a job as a sales/tech manager for a company that was selling the Autodesk manufacturing solution. One of the great events was a week long training seminar in the Chicago area. The training campus was incredible all meals included.

We were to learn the manufacturing "Bundle". We had short introductory lessons in Inventor, Autocad, Alias, Mudbox, 3D Max and a few other obscure products that engineers would "NEVER" use. Alias and 3D Max are professional packages with long learning curves. People have based their professions on these package. They are hardly packages for the causal user.

We had a lecture by a VP of marketing that we "WILL" sell the Bundles. The bundles seemed to be a way to push unpopular software. He was pushy and rude and had very little concern for the user. I have been a 3D CAD dealer for 30 years and it was a bit uncomfortable for me. We have always offered good support since we provided engineering services using our software. Hard sales techniques have never worked. Good productive software and good stable support is the formula for success with selling CAD.

While Autodesk is the leader in the Architectural and Civil engineering, it is basically a 2nd tier player in industrial/mechanical engineering and easily replaced. Do you really owe the rest of your business life to supporting Autodesk?



Today, you should take Mr. Anagnost advice
and find another software solution

.
---
---
I just found out lately that PTC joined Autodesk with subscription only. You are not trapped into a CAD system. Many have suffered with both of these companies due to our legacy data. But the industry has changed since you decided on your CAD software. Most don't realize there are other options. This is the time to take a look.
First thing you do is not to move to the subscription only. Stay with your perpetual systems. Actually, you probably have not used many of the new enhancements anyway. With this decision made you can look to a new productive CAD system that wants to work with you instead of locking you into a CAD program forever. This may be a new opportunity for increased productivity.
This is the biggest fraud played on our industry! It is not that you or your company are obviously locked into one program, forever, it is that your engineering legacy is locked there too!! Beware! Your future "will" be a horror show. This one fact outweighs any benefits they tout! It truly only benefits Autodesk and PTC! There is no incentive for them to enhance the product. There will be no innovation, the research will stop with the marginal product they are today. Sadly, there is little you can do with the de facto CAD standard that all the major CAD products share. There is a huge danger of them raising the Subscription price. What are you going to do. You are stuck paying what ever they want to charge. No one in their right mind would trust anyone of these huge CAD vendors.
As we ponder on this situation you have to ask one question:
Why not just offer a rental option?
They surely had to see the problems by locking the user into a lifetime contract?
The answer if obvious, there are not enough enhancements to keep the folks buying the maintenance or upgrades. But that is true for all of the popular CAD packages. Soon all will be downsizing to the stockholders disappointment. Everyone has CAD and they will soon realize the maintenance is not worth it. They cannot depend on the user to be stupid forever!
I am not the only one that thinks this is a complete scam! These articles go through each reason why Autodesk moved to subscription and call BS on it.
If you fall for this you have just allowed Autodesk and PTC to be part of your engineering plans forever. Once you move to subscription there is no way back. You have to pay forever to be compatible. If you sell you company the subscription has to be part of the sale. If you have multiple seats imagine the costs? Where if you settle for the last perpetual version there is virtually no cost, ever! What enhancement would be worth this? Even if you are a new start up, why would you chose this option that would make Autodesk your new partner? Many companies rent 3D CAD software (see below). You can buy an AutoCAD compatible program like IronCAD Draft for $595.00 and work with existing dwgs!
Ironcad Draft is a unique detailing software. You bring in a 3D model with any neutral 3D format or optional native files of the popular programs and detail them in using the familiar AutoCAD like functionality of Caxa draft. It also serves as a viewer.
---
You have Options
Let's say you want to change systems. You might as well, you will not be compatible with the newer versions by Autodesk or PTC. The only limitation is the AID (Associative Information Document (drawing)). You will keep your system around for years to come. But you can freely used the 3D models. Today, most of the systems can read the native files of Creo, AutoCAD and Inventor. This, of course, is one of the basic requirements of selecting a new system, so you can import your legacy data.
See Carl Bass talk about Autodesk's bottom line moving to subscription only!! An interesting fact being brought out is the increased level of pirating of Autodesk software to combat the subscription scam!! All so interesting!!
What is this all about? What does it mean?
It is obvious that Autodesk has realized that CAD has come to the end of its product cycle. You can only add so many enhancements to keep them buying annual maintenance contracts and upgrades. Everyone now has a CAD program so new seat sales have slowed.
So what do we do to keep the customers paying?
Let's lock them into a subscription service.
Yes, that's the Ticket!!
But what are the ramifications?
This is not like Office 365 that is around a $100 a year for 5 seats with tons of advantages.
This is an expensive subscription with no support. You want support? It is going to cost you.
Autodesk has some of the best Dealers in the industry. How long do you think they will be around with Subscription only? Autodesk will soon be selling direct only. They are already selling the subscription for all of their programs on line.
Take a look at this article:
What if you do not want to subscribe?
Let me offer you a couple of options.
Autodesk has a myriad of products focused on different industries. Basically they have 4 areas of CAD, Architectural, Civil, Mechanical/Manufacturing and Entertainment. Autodesk is the most schizophrenic company I have ever been involved with. Their products are all over the place. Many have been purchased and do not have any commonality, such as AutoCAD, Inventor, Alias, Fusion 360, Mudbox, 3ds Max, Maya, Revit, etc. More of a menagerie. than a product line.
What happens when sale slow? Which areas do they cut back? We know that the Architectural and Civil is their bread and butter. But what happens to mechanical? This is basically an industry they more or less fell into. It took years to get a decent 3D mechanical package. Inventor is nowhere close to Solidworks in the size of the user base.
Both IronCAD and ZW3D are small CAD companies with focused products. These programs are mostly used in the Mechanical/Industrial industry. They are dedicated to provide the best design solution. Each is unique in its own way.
IronCAD is the very best conceptual design program and ZW3D leads the way to powerful 3D Hybrid Modeling. Both have a VAR network to provide you with personal service and support.
So think it through. You don't have to move to these packages instantly. But they can keep you be compatible with what ever Autodesk, PTC and the other large CAD companies are going to do in the future.
Trust me, as you work with these packages you will slowly move to them as your preferred design solution. Take a look how two different packages can work together. This article shows how you can work with any other packages data.
I will guarantee these companies will never go subscription only. They are completely focused on productive solutions for this industry only.
---
Again for our new options visit.
Autodesk - PTC - Siemens
That is about it. Cost savings? Of course, are you locked into a company for life? Nope. If you need other options please give me a call.
Both IronCAD and ZW3D have analysis and simulation option.
There you go.
You are not stuck with paying for CAD forever!
You now have Options.
TECH-NET Engineering Services!
Why TECH-NET Sells IronCAD and ZW3D
Feel free to give me a call!
Joe Brouwer
206-842-0360