It was in the late 1990's and Prototek had already spent over a year working with a design contractor, trying to complete a casing for the Prototek LineFinderTM computerized, automatic sewer-line-locating instrument. Only about 80 percent of the project was completed in the parametric solid modeling PC Based CAD program, SolidWorks. The project seemed to be driven by the limitation of SolidWorks and the CAD skills of the designer, they had to settle for the design below. Prototek was many months behind schedule with customers clamoring for the product.
Due to illness the designer had to quit the project and Prototek, recommended by one of Seattle's leading prototypers, turned to Tech-Net Inc., to complete the job. Our assignment was to complete the original project. Moving out of Solidworks and into IronCAD we completed the project in 2 weeks.
But Prototek president Larry Smith not satisfied with the design and asked us what we thought of it. We all came to the conclusion that it really looked clunky, was heavy and left a lot to be desired aesthetically.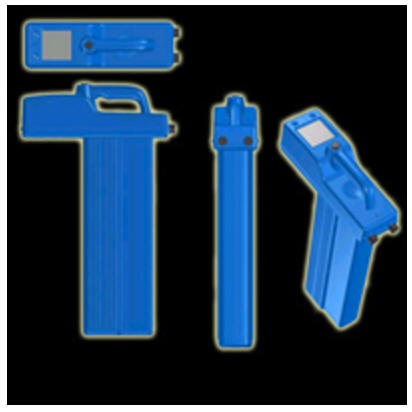 Larry and project engineer Charlie Faddis decided throw away the old design and start over. Smith and Faddis wanted the product to be simple to use, and this mandate drove the entire development of the LineFinderTM. One thing that Larry wanted was for the monitor to be adjustable, to be able to see in the sunlight. He asked us what we thought, and we said no problem.
In two days we had a set of brand new designs to match what Smith and Faddis requested. Working together we developed the final CAD sketches.
3D Printing Success!
From the CAD sketches, using IronCAD we turned the product into solid models. Within 8 weeks the LineFinderTM was done and we had the stereolithography files to the prototyper. We had parts in our hands in days. We reviewed the parts and made the required changes to the model (which were few) and turned the files back to the prototyper for silicon molds to be made. Within 2 weeks Prototek was sending product to their customers.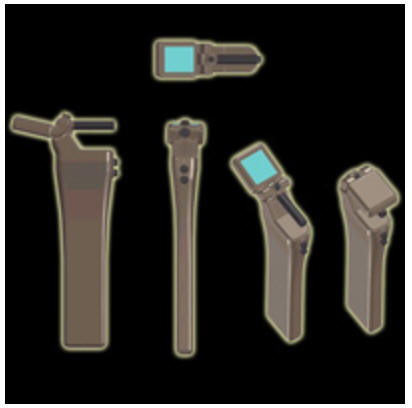 They had 40 units made. That got the product out on the market, but our job wasn't done. We now had to get plastic injection molds made to bring down the cost of the parts. We modified the design for injection molding and sent them directly to the mold maker. The mold maker worked directly from the IGES files, with very few questions, and created the molds without drawings. Within a few weeks we were delivered parts. This project was paperless from the first day.
We are very proud of the LineFinderTM, it is truly the state of the art. It met all of Prototek's requirements, simple, light, compact and very aesthetic. We want to thank Prototek for this opportunity. And are looking forward to the next project a smaller, hand held pipe and septic tank locator.

In 2008, Larry decide there should be some changes. We worked from models that were created over 10 years earlier. Actually we used a different direct editing only modeling CAD system to make the changes. Again there were no AIDs (Associated Information Documents (drawings)) made. But today, we have moved back to creating AIDs as a second check for our work.

Prototek Project Update - Direct Editing Exposed