I came upon this article!
King Creo—PTC Crowns Top CAD User
They describe a contest to create the above part in less than 20 minutes. They tout this as "Test Your Design Skills"! I hardly think converting a drawing to a model is testing your design skills. It is a test, in this case, of your sketching skills.
Creo Battle Royale
You can see the drawing in the article. Give it a try before you read the rest of this article. The drawing is in the article.
They describe a fellow that sat in his hotel room and practiced and practiced creating, uh, sketching this model. He is the adult (well over 40) BSME with a "CAD BOY" T-shirt. Oh my, has the professional engineer changed. I remember my early days of drafting. The difference between draftsman and engineer was that the engineer wore a tie.
Back to the contest.
Ah, I said to myself, a chance to show these Creo guys how much more productive my software is!!
So I went to it. Hmmm, this is not going very fast, as I started dragging and dropping shapes out of IronCAD. I had to bite the bullet and admit that the best way to create this part was sketching.

It took me awhile to discover this was not 3D modeling it was an exercise in sketching!
OH, THE HUMANITY!!!
HOW FAST CAN YOU CREATE TWO SKETCHES??
Yes, this model is made up of two sketches. Not being the best sketcher I had to do it a couple of times and had it down to 10 minutes. I said "Good gawd who cares!!".
Now Creo (Pro/e) has probably the very best sketching process, since it developed this overly complex, time consuming constrained sketching in 1988. Can you believe it is 2020, 32 years later and we are still using this convoluted dated paradigm? What's worse, it has become the de facto standard with all of the other popular 3D CAD packages being nothing but Creo clones. We have the complete industry now based on this idiotic paradigm.
32 Years of 3D CAD Incompatibility - The New Generation of 3D CAD!!
Here are the two sketches in IronCAD.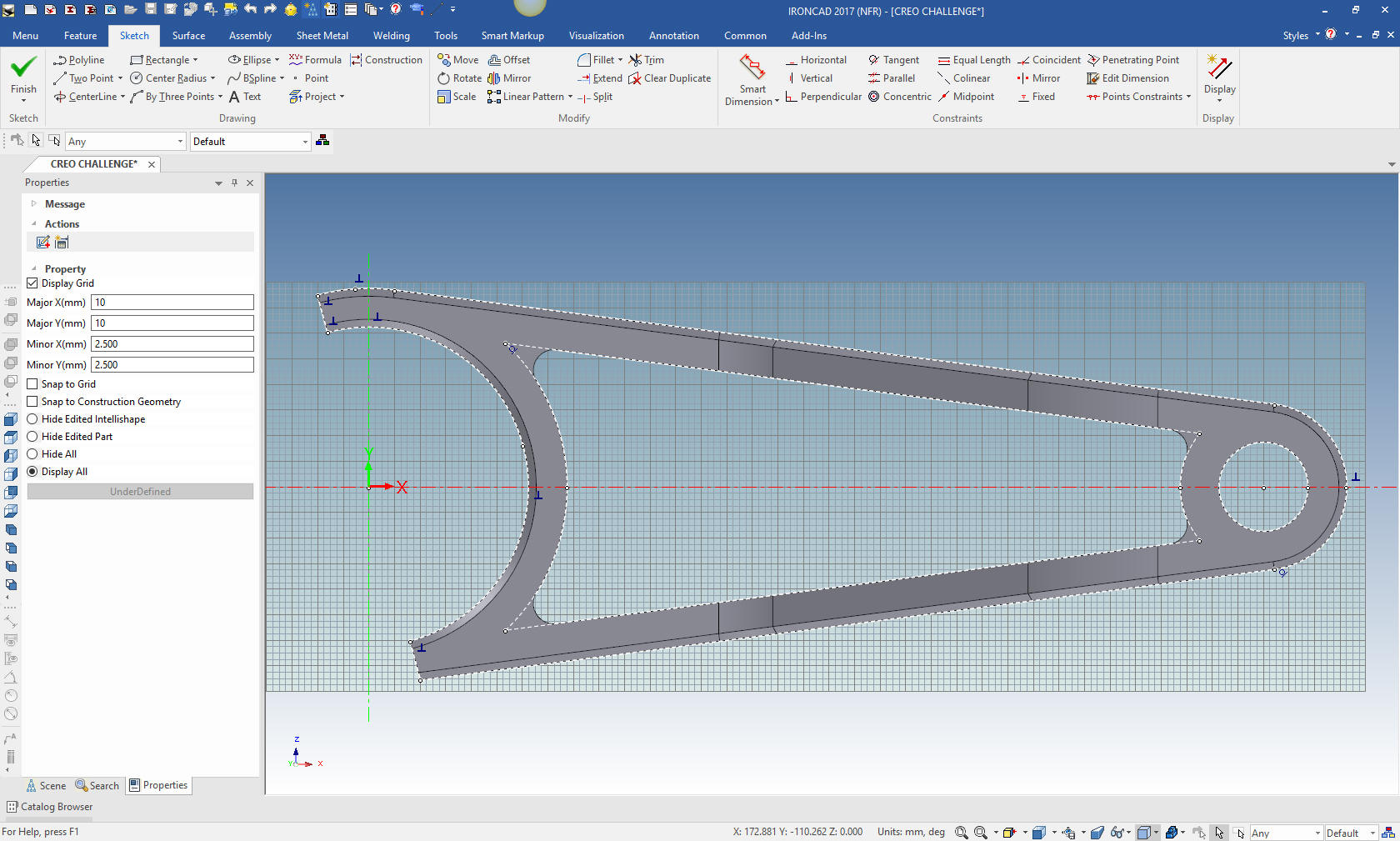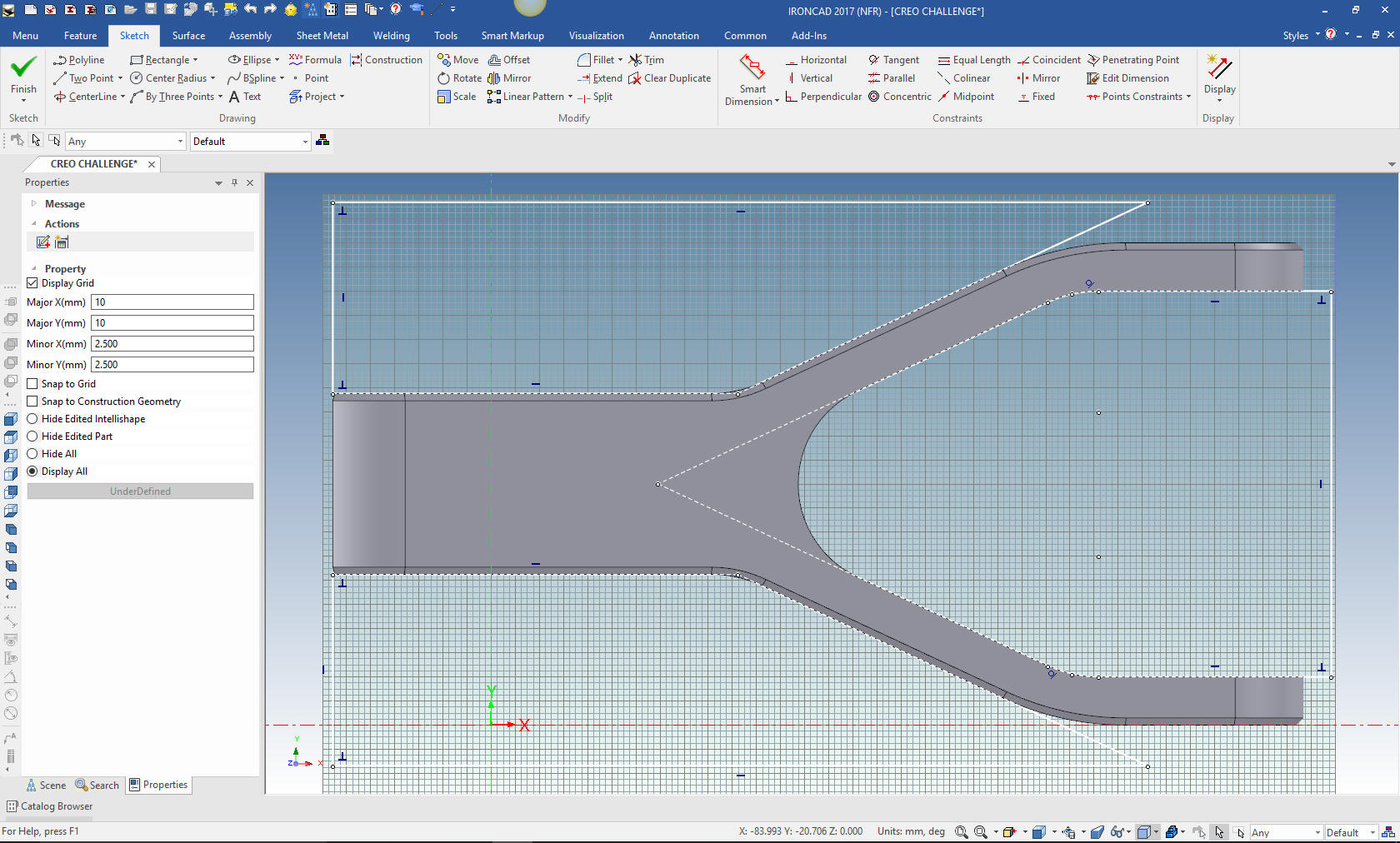 As you can see I rarely sketch fillets so I had to put them in later. I really couldn't care less about this contest, it really is somewhat misleading and a waste of time. It is really nothing more than how fast someone can sketch and does not reflect the use of the product in design.
I was going to do this in ZW3D, but sketching is just sketching.
I have quite a few actual exercises on 3D Modeling Techniques. I do not promote speed just productivity. My modeling techniques are much simpler, more productive and straight forward as compared to the sketching world according to the Solidworks clones. I have coined these: Streamlined Sketching and Feature Based Modeling. We also offer the added flexibility of smart or primitive shapes that cut the design time by easily 30% over sketching only.
3D Modeling Techniques Defined
Learning IronCAD in

ONE Minute

30 Seconds!
So there you go. This is what PTC passes off as design software and top CAD users. Sadly, many think they are stuck with this time consuming and overpriced sketching program.
We can offer you a much more productive true 3D design solution at probably one tenth the cost. We can read native files of Creo, NX, Catia and Solidworks including PMI plus Solid Edge and Inventor directly.
Download both of our programs and import your assemblies into one single file and start working using robust integrated history and direct edit functionality. In most cases you can modify your parts faster than in the native CAD program.
If they have you believing you have to use your CAD software for your document control, it is BS. There is a much simpler, cost effective and Murphy proof process. I can show you a system where it doesn't matter what CAD system you have. Your engineering deliverable can be outside your CAD system making it a true standard. Much, much easier to manage and deliver to manufacturing.
The Embedded Title Block! - A PLM Solution!
Standard Cloud Based Engineering Document Control
Standard Cloud Based Engineering Document Control Part II
Give us a call!
---
If you would like more information or to download Z
W3D or IronCAD
Give me a call if you have any questions. I can set up a skype or go to meeting to show this part or answer any of your questions on the operation of IronCAD. It truly is the very best conceptual 3D CAD system.
---
TECH-NET Engineering Services!

We sell and support IronCAD and ZW3D Products and
provide engineering services throughout the USA and Canada!
---
If you are interested in adding professional hybrid modeling capabilities or looking for a new solution to increase your productivity, take some time to download a fully functional 30 day evaluation and play with these packages. Feel free to give me a call if you have any questions or would like an on-line presentation.
Joe Brouwer
206-842-0360