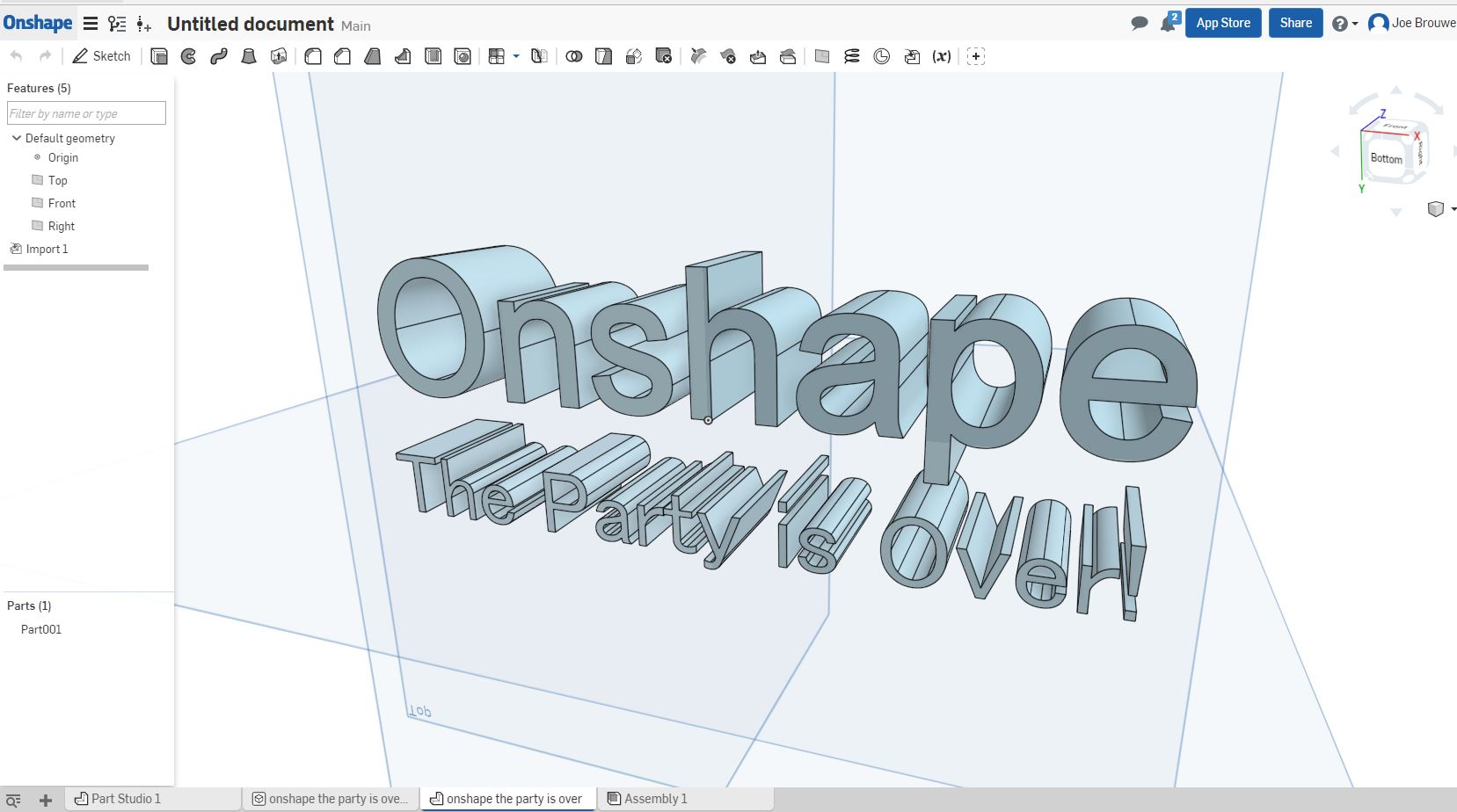 ---
Better Rental Pricing with a Perpetual Option
Local control of your Engineering Data!
IronCAD - $1,500.00 Per Year - The Best Conceptual Design 3D CAD System
ZW3D Lite - $800.00 Per Year - Fully Functional 3D Mechanical Design
ZW3D Standard - $1,200.00 Per Year - The Ultimate 3D CAD System
If you would like more information or to download ZW3D or IronCAD
Before you consider any subscription based CAD system be sure you are willing to have a CAD company in total control of your precious Engineering Data or Intellectual Property Forever?
Onshape Subscription and Pricing
What happens if they raise the rate?
Can you go to another package?
What are the problems you will face?
The models exported as dumb STEP models

Drawings as PDF and they will have to be recreated.
With a perpetual system, if you decide to move to another package or sell your company you will always have direct access to your legacy data with no additional costs.
---
Onshape! The Party is Over!
Please read my Previous article on Onshape
Onshape has some huge problems
Nails in the Coffin
The 10 free projects were great while it lasted. It was a lot of fun having Onshape available. I tried to get my customers and suppliers to communicate with Onshape. I guess my emails with the models, 2D/3D PDFs and Skype sessions were enough. I never did get them to follow through. It truly is a wonderful collaboration tool.
I now mostly use it for compatibility checks on imported parts. That is about it. I did promote it to a few of my clients and friends as a free translator (Which it still seems to be).
Onshape has discontinued the 10 free projects. I would leave a few projects up there and deleted the ones I wasn't using. I still have a wonderful Australian Super Car in my public area. Search "Redback Super Car". This is a fully designed sports car available for download!
They now want $1,500.00 per year! They present it as per month cost, but only offer it to be billed yearly. Why don't they present the cost per week or per day? It is still $1,500,00 per year. This eliminates those that don't have the money. ZW3D Lite is $2,000 and you get to keep the software forever. They even offer a $450.00 rental option for 6 months.
There is a huge problem with Onshape. There is no native file you can download and store locally. This is a deal killer for any independent consultant or company. No company wants to have their engineering data held hostage in a Cloud based server. You sell the company and they instantly have a yearly $1,500.00 CAD bill? This should kill the subscription option for any CAD system. What if they use a different system? You really have to have all of your engineering data locally stored and the original CAD system available for legacy.
You are Not Stuck with Autodesk or PTC Subscription Only
Onshape is a marginal 3D CAD system. I do like it much better than Fusion 360, it has a much more user friendly and conventional interface. You would have thought with the experience of the founders and all the systems available they would have designed a more innovative and advanced product instead of another Pro/e clone. I suppose they did this to try and entice the existing Solidworks users to jump on board. I will tell you, no Solidworks user would move to Onshape for their main 3D CAD design solution, nor would any users of the other popular programs.
The Very Best Collaboration CAD Tool
Onshape is the very best collaboration platform. You could release your engineering with Onshape by uploading the model and any form of documentation, from a PDF, image, any office document, etc. The free versions will allow viewing only, so it now becomes of limited value. I love the way you can have a model for evaluation at any time. You could modify it or download it to your existing CAD system, you must have robust direct edit capabilities. I would have to consider at least one professional seat if I ran an engineering department and have it available for instant offsite collaboration by all of the designers, checkers, planning and manufacturing. I suppose it could be a viable free solution if you didn't have to download the model.
Today, I use Skype. My CAD or engineering customers and associates can skype and I can instantly help them with their problem or review a design. If I need more capability, I have gotomeeting where I can control their CAD system and computer. But it is nothing like Onshape that has the model and documentation always available.
Document Control
Onshape still has the potential for being the standard engineering document control system. Sadly, you have to have a professional version to download the files. So again, even this highly productive feature will not have the flexibility to work with suppliers and offsite designers.
The Ultimate Document Control System
So we can only play with Onshape today. To set up the infrastructure to make it a viable engineering tool would probably take more time than it would be worth.
Training
It still is a great training platform. Being cloud based is it perfect for the college student or anyone that wants to learn 3D CAD. All solid modelers operate about the same, history or direct edit. They all have only four functions, Extrude, Spin, Sweep and Loft. Once you understand these basics, other systems are relatively easy to learn.
The student can do 3D CAD and create the drawings. But with only having projects public you cannot collaborate. I was going to have a training program that utilized Onshape to learn 3D CAD, form, fit and function design and drafting (document creation). I still may.
3D CAD Translation
It looks like this is still an available option. You can bring in the latest Solidworks part files and export it as a 2004 version. As a dumb file of course. Sadly, you have to have a Pack and Go .zip file to import a SolidWorks assembly files
Conclusion:
So the engineering world has just lost easy access to one of the most effective CAD collaborative environments. I suppose they could quit developing it and sell subscriptions for 5 licenses for $120 per year. But still provide viewing and download for free.
---
But All is Not Lost!!
Another Viable Inexpensive 3D CAD Solution!
I was hesitant to recommend Onshape since I sell IronCAD and ZW3D. But now I can offer a much better solution.
ZW3D Options
ZW3D Lite rents for $450.00 for 6 months and $800.00 for 12 months and is only $2,000.00 for a perpetual seat. It is obviously a much better solution. Your CAD data is under your control.
ZW3D Standard offers complete Hybrid Modeling. Miles above what Onshape and only rents for $650.00 for 6 months and $1200.00 for 12 months and is only $3,000.00 for a perpetual seat. It is obviously a much better solution. Your CAD data is under your control.
ZW3D Fall Special!
WARNING: ZW3D is a professional 3D CAD engineering package and it is not recommended for those who are not engineering professionals or students with no prior 3D CAD experience. While we will help you get started we are not equipped at the rental price to teach you 3D CAD from scratch or engineering design. Don't let this low price fool you.
Here is a great ancient drawing to use to get familiar with ZW3D Lite.
Working with Other Systems!!
All ZW3D products come with translators for Creo, NX, Solidworks, Solid Edge, Inventor and Catia, they even include PMI data for Creo, NX, Solidworks and Catia.
It has both history based and integrated direct edit functionality.
Download ZW3D for new design or to supplement your existing system.
For more information or to download ZW3D
IronCAD Options
IronCAD now has a rental option $1,500 per year with upgrade to perpetual options. Even at the perpetual price of $3970.00 it offers a much more cost effective solution. Again your engineering data is under your control.
For more information or to download IronCAD
For more information please feel free to give me a call.
---
TECH-NET Engineering Services!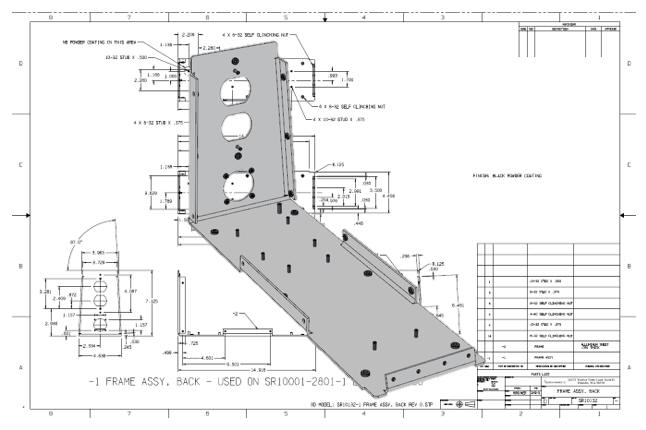 We sell and support IronCAD and ZW3D Products and
provide engineering services throughout the USA and Canada!
---
If you are interested in adding professional hybrid modeling capabilities or looking for a new solution to increase your productivity, take some time to download a fully functional 30 day evaluation and play with these packages. Feel free to give me a call if you have any questions or would like an on-line or on-site (Great NW Area) presentation.
Joe Brouwer
206-842-0360