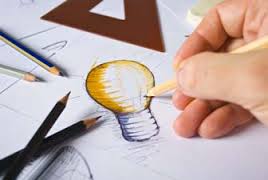 3D CAD FOR THE INDUSTRIAL DESIGNER
Industrial Design:
"The role of an industrial designer is to create and execute design solutions for problems of form, usability, physical ergonomics, marketing, brand development, and sales."
I have been in the industrial/mechanical engineering business for over 50 years. I wasn't even aware of Industrial Design until I jumped disciplines into Plastic Product Design from Aerospace thanks to my Computervision CADDS 4 3D CAD experience in 1982.
The 1980's - 3D CAD - The Beginning
I met my first ID when I sold him a seat of CADKEY. It was the first functional PC based 3D CAD system. He was a great designer, we would go into clients together and he would sketch a concept or two right on the spot. Then hand it to me to develop. Not that he couldn't do it himself he is a skilled CADKEY and IronCAD user and engineer. He was one of the first that jumped into CADKEY with Fastsolids and Trispectives to utilize the solid modeling functionality of both programs.
After selling CADKEY for years I was introduced to Trispectives in the middle 1990's, a graphic design program. FastSolids was just released for CADKEY and with Trispectives, both being based on the ACIS solid modeling kernel, we could pass solids back and forth with ease. This was incredible. With CADKEY we would create precise mechanical designs and with Trispectives we could create realistic renderings and animations. We could put images on faces, add transparency it was incredible. This was in the middle 1990's when others were struggling with the complexity of Pro/e.
Sadly the Pro/e paradigm became the CAD standard and cloned by the other popular CAD systems.
Trispectives was purchased by a company that was an OEM for CoCreate (today's Creo Direct) and they produced IronCAD. IronCAD has the only integrated history and direct editing plus surfacing in the program. All are used in the design process (I will show the benefits of this later). This product was released in 1998 and introduced with the "Innovative Part Design". This paradigm offers levels of "Conceptual Design" miles above the current Pro/e clones (Solidworks) no matter how much you paid. To match IronCAD for Industrial Design you would have to have extra modules for many of the CAD system and even 3rd party programs, costing a fortune with very little ROI in productivity.
Industrial Designers are not Mechanical Engineers, their design needs are much different. The Pro/e Clones are designed for Mechanical Engineering and focused on the problems of mechanical engineering with complex history based design and separate part, assembly and drawing files with complex integrated PDM or PLM. While this may be good for designing machines (I don't agree) it is a horror show for fast, easy conceptual design especially as it relates to design changes.
An ID needs a flexible CAD system that allows them to focus on and not get in the way of their design process.
Leverage Your Engineering Data - Sales, Publication and Marketing
So, what "HAS" gone wrong with Engineering? Part III
The Tale of the Center Grinder!
---
We offer two incredible highly productive, highly creative and cost effective solutions!
---
Welcome to Complete Design Freedom
Innovative Part Design
---
1. The Single Model Environment
In the Single Model Environment you can do your complete project or multiple projects without defining external parts. The Pro/e paradigm was built for drafters. Most have experienced this, you create your parts with a complex unforgiving History/Feature design with constrained sketches and you shudder when you think of changes. You have to insert the parts and constrain them in the assembly module. The only constant in design is change. As designers we may need a couple of different iterations to show the client. All of the popular CAD systems have finally admitted that the sketch, sketch, constrain, constrain paradigm is dated and hard to modify and have introduced direct editing.
Is 3D CAD Productivity an Oxymoron?
The sketch and constrain design technique is very time consuming. In this article I introduce Streamline Sketching and Feature Based Modeling. It increases design productivity 10X.
3D Modeling Techniques Defined
Here is are two videos comparing the design process of IronCAD compared to SW and Pro/e paradigm. I don't particularly care for speed comparisons of CAD systems. We don't design for speed. Design can be a time consuming process, even with CAD, involving many considerations. But this video shows the Single Model Environment and drag and drop design in action. Notice that no external separate parts are made. You can establish external reference parts at any time in the design process.
In the Pro/e clones the parts are created separately. They do offer in-context or top down design but again like most Pro/e functionality is overly complex, taking your mind off of the goal "Functional Creative Design".
In the Single Model Environment you have parts freely coexisting in a single space. Easily creating mating parts into easy to maintain assemblies. All in one file. Yes, you can have external reference parts.
You can have many different designs for review and since you can drag and drop and copy and paste features, parts and assemblies without any considerations, this can be done very, very fast.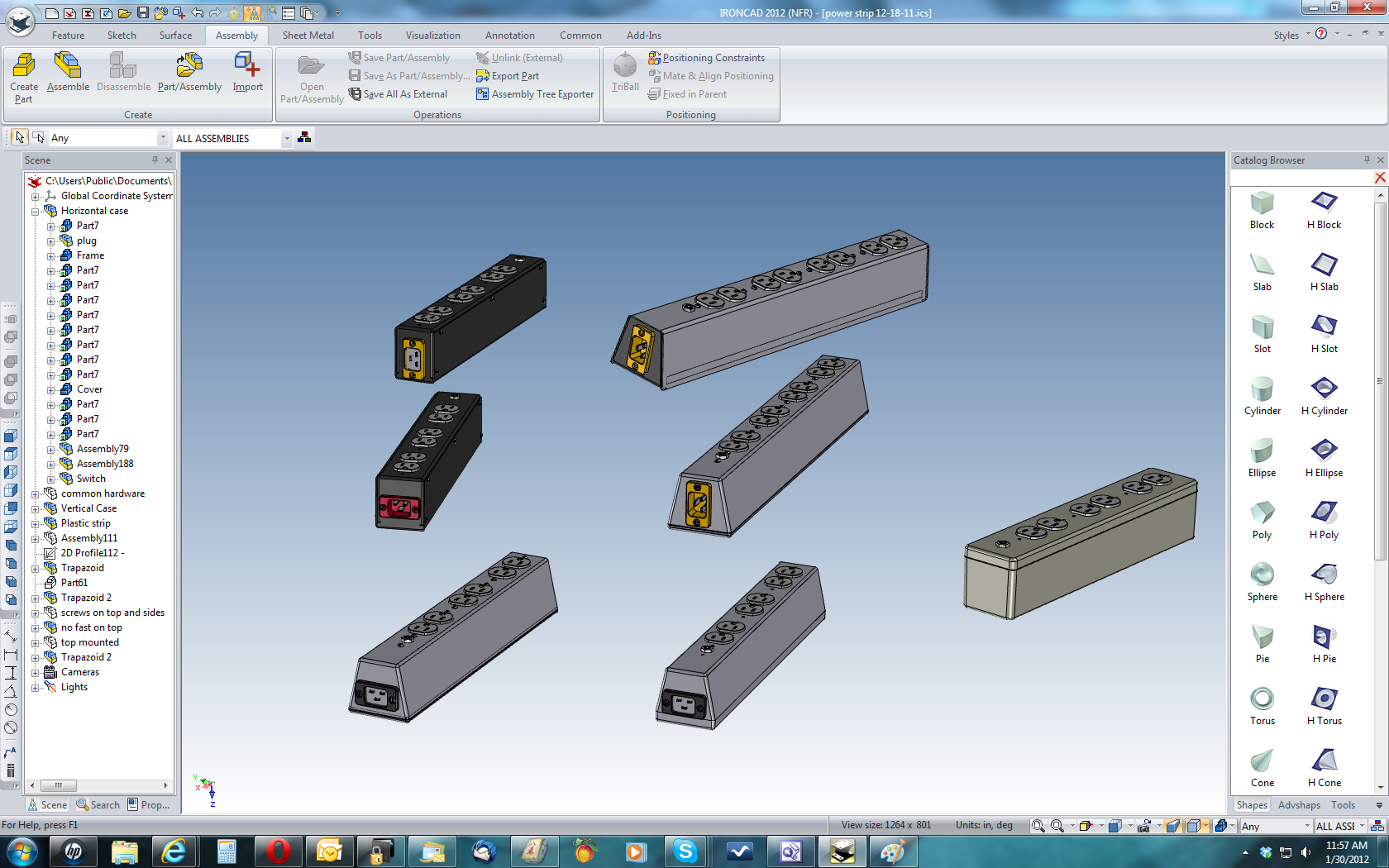 Above you can see the different designs for plastic and sheet metal power strips. As we work with the customer the design develops. As you can see they are all in one file. Not only can we work with similar parts we can work with totally dissimilar part or assemblies. On the right is a catalog of shapes, advanced shapes, colors, textures, tools (such as custom holes, fasteners, gears, bearings, etc,), sheet metal or custom catalogs with features, parts or assemblies. This view is in an exploded configuration, not affecting the original location of the parts.
---
2. Drag & Drop Design from Standard and Custom Catalogs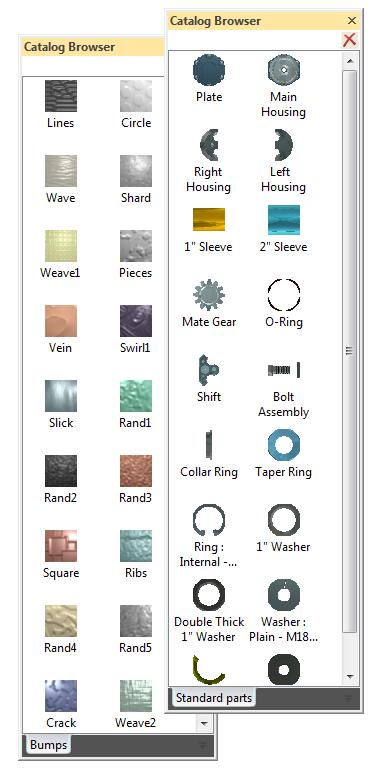 There are a few CAD programs that that allow you to drag and drop primitive shapes. IronCAD capability is much more sophisticated. You can drag & drop a multitude of standard positive and negative features and shapes from the standard catalogs to do your design. You can create custom catalogs of special common features, parts and assemblies. All of the shapes have push/pull handles to quickly adjust the size or to match other shapes or parts.


The catalogs offer more than just features, shapes, parts and assemblies.
Tools: Includes specialty shapes like bearings, hot and cold formed steel shapes, custom holes, Helix, fasteners, gears, etc.
Sheetmetal: All of the sheet metal features can be drag and drop into the scene. Of course these sheet metal features can coexist with the all of the other parts and assemblies already created.
Animation: You can drag and drop animation controls on your parts and assemblies to create fast and easy animations.
Appearance: Drag and drop color, texture, bump, and realistic characteristics such as glass, metal, wood, plastic, etc.
This increases your productivity incredibly. You truly have to experience drag and drop design if you are stuck in the sketch, sketch, constrain, constrain world of the Pro/e paradigm with clones such as NX, Solid Edge, Solidworks, Inventor and Catia 5. But there is one more fact, you can still design in that world when there is a need. The features and shapes are driven by an embedded sketch.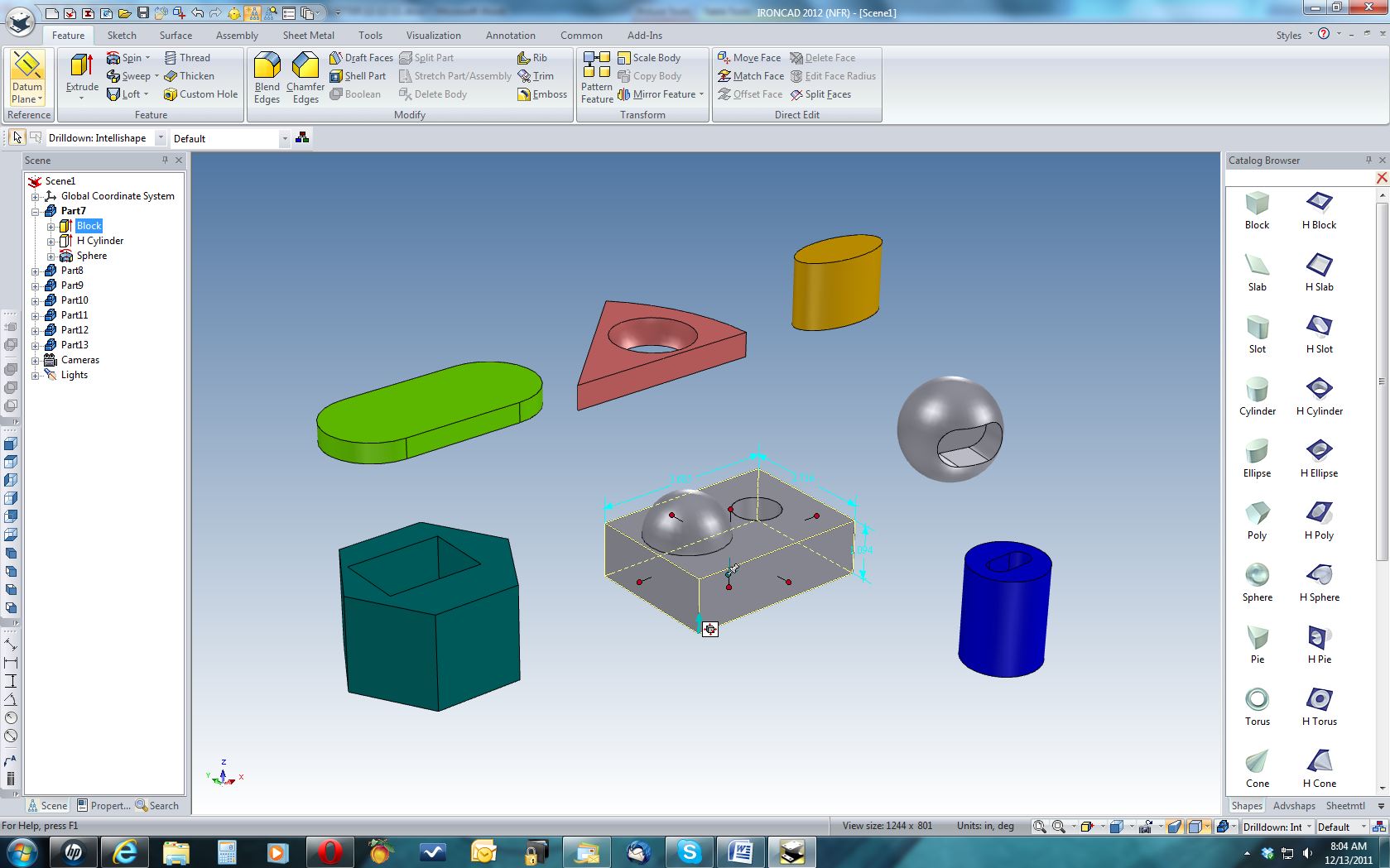 Above: This is a very easy to use interface, but it has very sophisticated and powerful capabilities. Let's take a look at some of the basics. Look on the right side and notice the shapes in one of the standard catalogs. I have Drag & Dropped some shapes into the work space. You can see some what are called hole or negative shapes Drag & Dropped on the solids. On the middle block you can see the Push/Pull handles. On the left is the scene browser or tree. You can see the block highlighted and showing the features that make up the part. Also notice that all are separate parts in the same space without external references. You can make them external reference parts or insert referenced parts if necessary.
---
3. Integrated History/Direct Editing and Surfacing
IronCAD has integrated history and direct edit functionality.

With a click of the right mouse button you can directly edit any feature. I remember working with a non-native phone case years ago. There was a wall I had to move. I was upset because I figured I had to reconstruct it with another program. I clicked the face and selected move. The Tri-ball (we will get into what the Tri-ball is next) and moved the face saving me a couple of hours of revising and healing.
This phone was originally designed by an ID firm in Pro/e
and developed in IronCAD and is the first project in this article
Left is a rendering. Right is a picture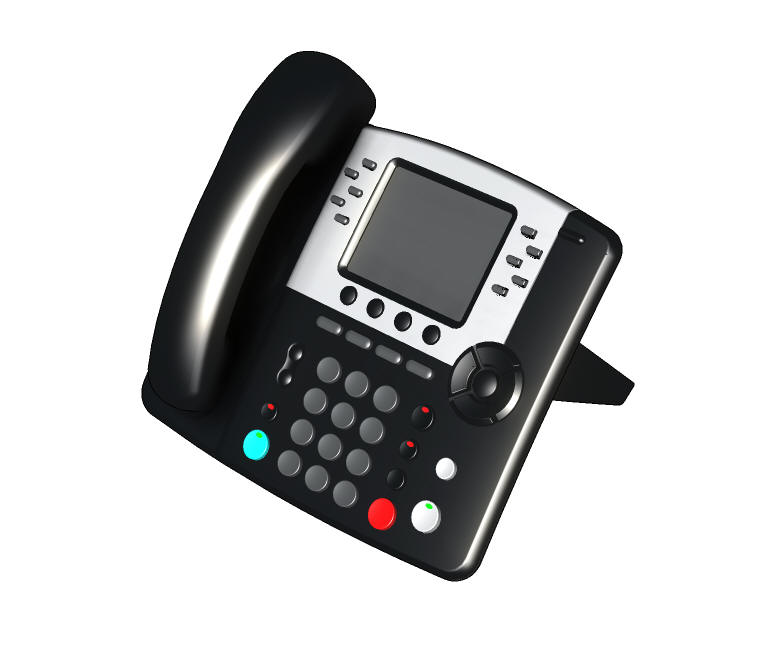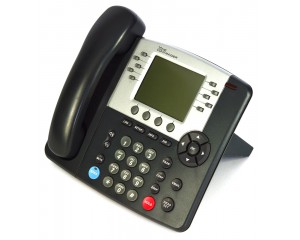 Many of you cannot imagine not having a history based system available for design, well neither can I. IronCAD having both integrated into one system gives you the most flexible design tool available. It truly is a pleasure not to have to worry about design intent.
Here is an example of IronCAD and its direct editing capability:
Here is a shelled shape. We select the face we are going to move and with the click of the right mouse button. The Tri-ball comes up to manipulate the face. We are going to rotate the selected face.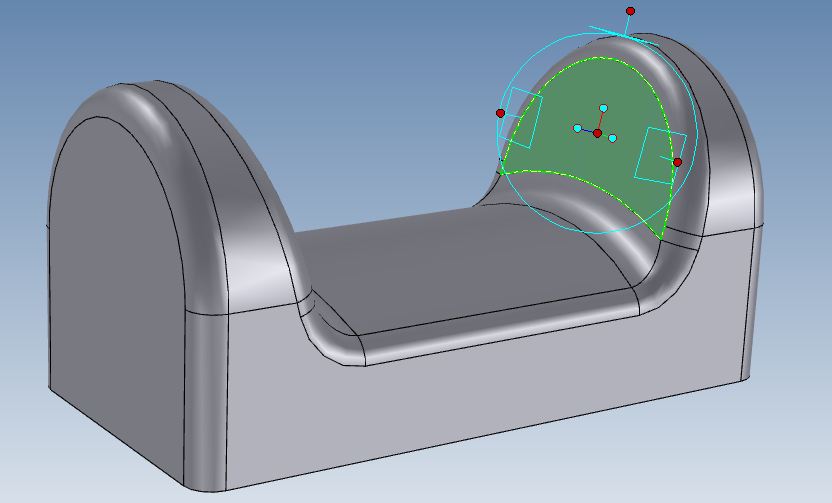 We rotated the surface 15 degrees.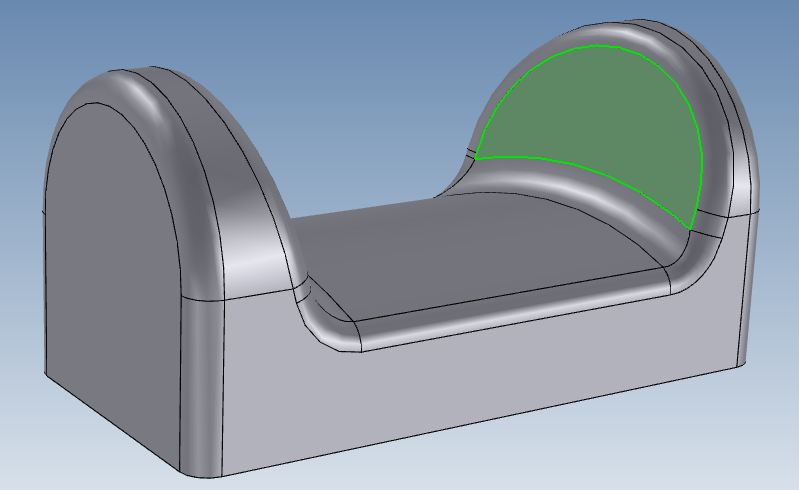 We had a shell function in the history this shows that the shell also got updated.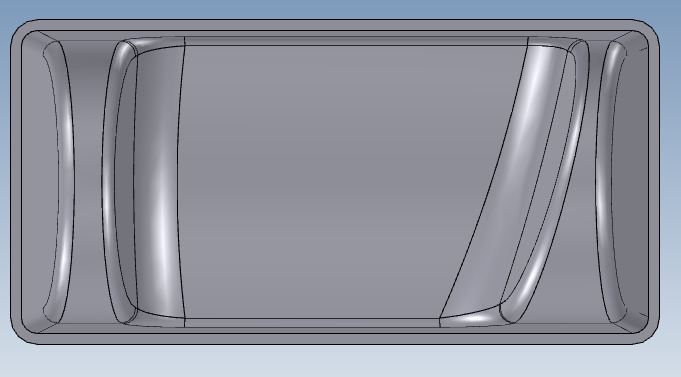 Imagine working without worrying about the design intent. You have the freedom of incredible conceptual history based design with the ability to directly edit the part when the design requires it. IronCAD works a bit different than ZW3D when doing direct editing. IronCAD consumes the affected features making direct editing a part of your design process. ZW3D makes every direct edit modification a step in the history. This is the way most of the history based programs handle direct editing. Which can be a bit problematic. IronCAD and ZW3D allow you to combine the history into one Brep. Can you imagine blowing all of your history away? "Oh, the sacrilege!!"
Surfacing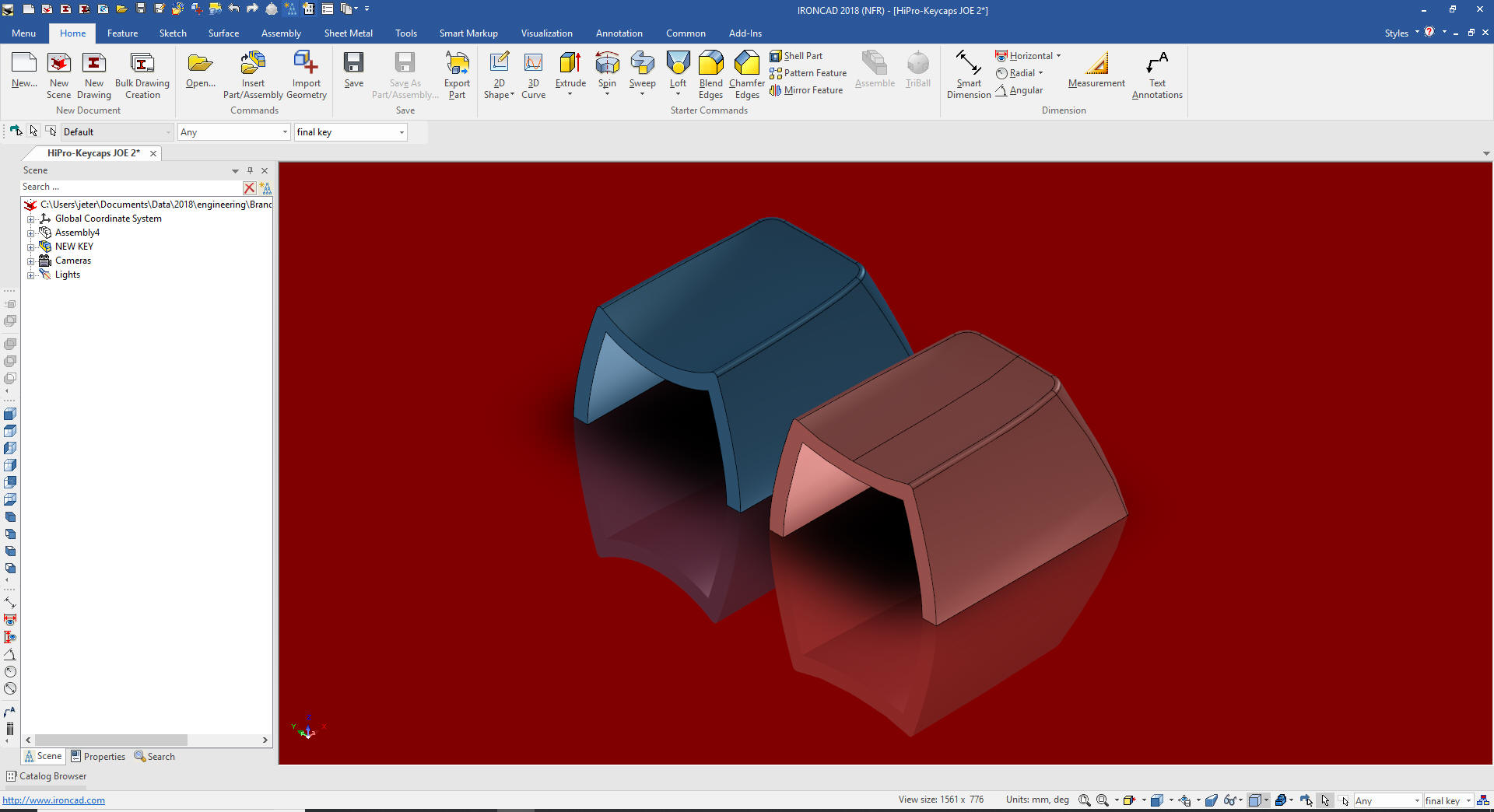 IronCAD offers good surfacing to enhance the solid modeling.
A Simple Case for Hybrid Modeling
---
4. The Incredible Tri-Ball - Often Copied but Never Duplicated
(Virtually all direct editing packages have a Tri-Ball Clone, including SWPD)
Many of you have seen feature, part and assembly manipulation tools show up in your programs or in presentations of other programs. I am sure you thought they were very clever and productive, but a bit cryptic. Ever wonder where they got the idea? The Tri-Ball has been with Ironcad since the Trispective days in the early 1990's. It is not just a feature, part and assembly manipulator. It does so much more. It locates, copies, mirrors, links, it is used to manipulate surfaces, mating parts, splines etc. You have seen the Tri-Ball used above in direct face editing.
The Tri-ball with a push on the space key allows the Tri-ball to be moved to a location where you may want to create a pattern.
Here is how it works:
I have created a flange with a hole and now to create a bolt circle.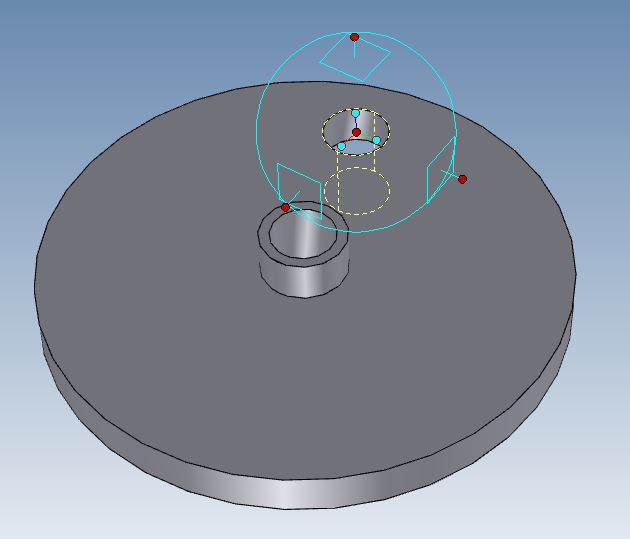 We push the space key and that turns the Tri-ball white which means we can move it to the location where we want to rotate the hole.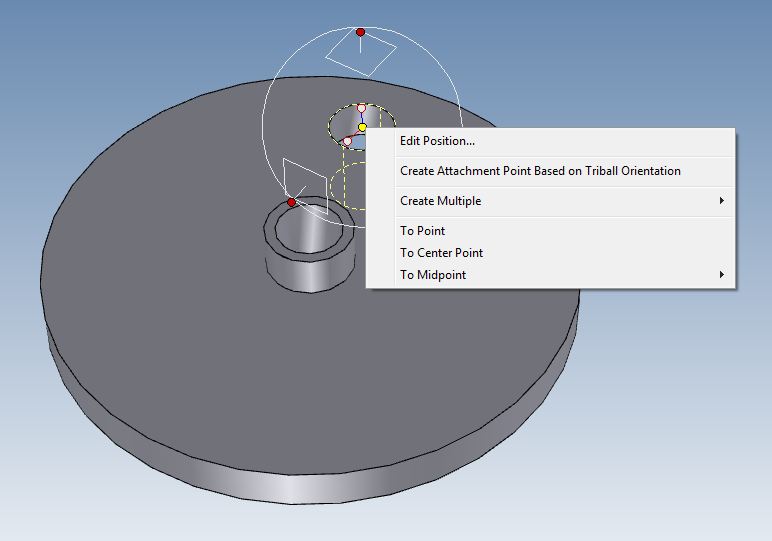 Now that we have the Tri-ball in the correct location we can now perform the operation. Notice you can select to reset the Tri-ball to the original position after the procedure.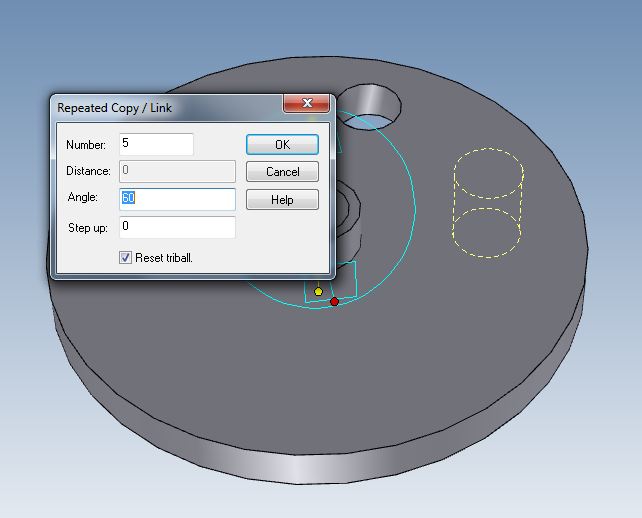 Below shows the holes installed. We could have also created an editable pattern.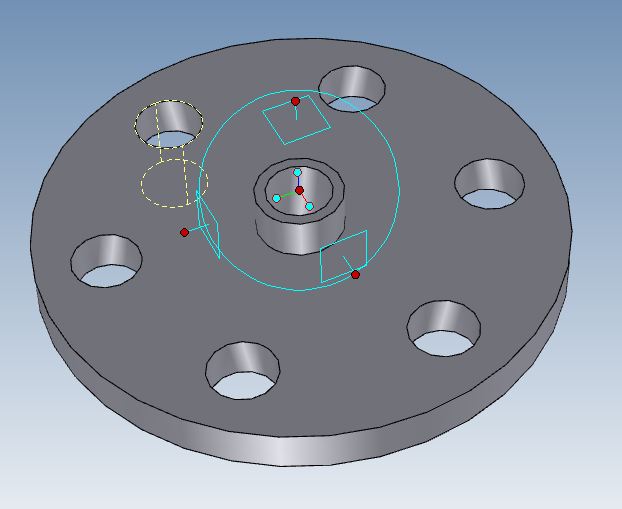 As you can see the Tri-ball power even in this simple example.
The above five functions are described more in depth in this article.
Five Functions that Increase CAD Productivity!!
---
5. Rendering and Animation
One of the things that an ID needs is to be able to quickly present their new project. Since both IronCAD and INOVATE started out as graphic design programs they have realistic rendering and animation as an integrated part of their program. If you have more realistic needs, both or our packages have an integrated KeyShot option.
Most of the CAD programs are for Mechanical Engineering and realistic rendering and animation depend on a separate option or a 3rd party program. The Mechanical Engineer rarely gets into realistic rendering, a screen shot usually serves the purpose to get the idea across. But as an ID you have to get the idea across to convince someone it has to become a reality.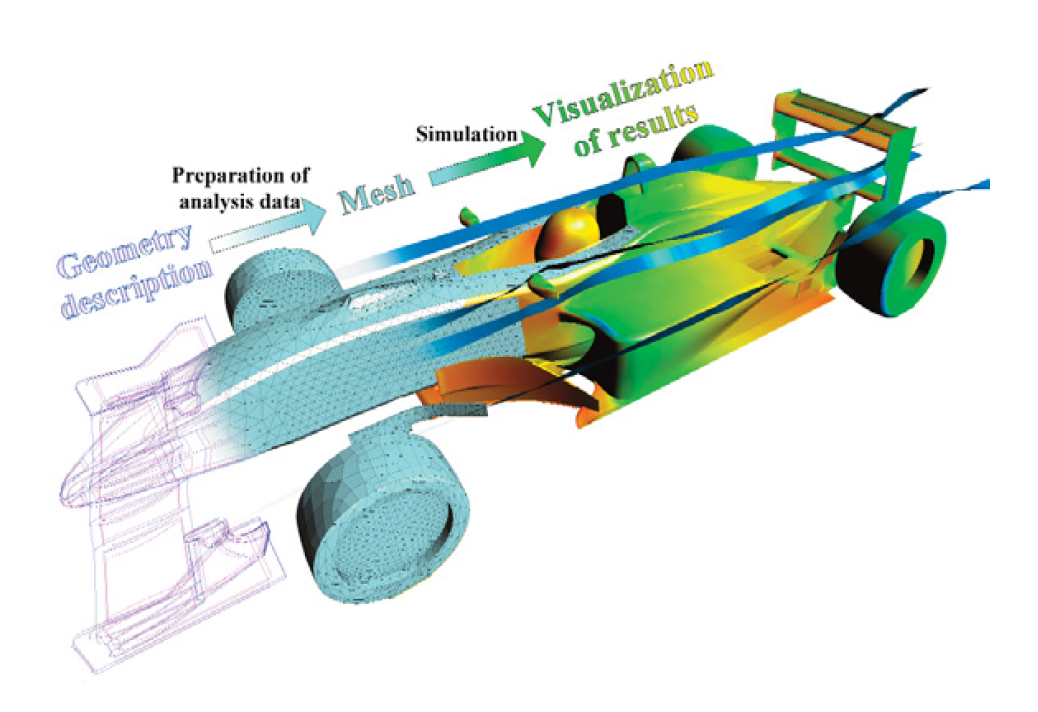 This was done Years ago by Simon Floyd in IronCAD!
Realize this was done in one file no external parts!

INOVATE - Modeling only package
IronCAD - Complete CAD system and adds two easy to use documentation modules (one is an AutoCAD clone), Sheet Metal, intermediate Surfacing and Intellishape functionality.
Even though IronCAD offer incredible ease of use, high productive conceptual solid modeling design, it's surfacing is not much more than a limited enhancement for solid modeling. You do not have the robust surfacing capabilities of a more advanced surfacing package, such as ZW3D. Surfacing is not included in INOVATE.
---
Enter ZW3D - Free Form Class A Surfacing.
No, it is not an advanced surfacing package like Alias. But really, who needs $20,000 of surfacing software to do product design. Yes, it is important when you are sculpting something like an auto body but rarely do we need those kinds of capabilities. It is more on the order of Rhino with functional solid modeling, shape morphing and wrapping and includes reverse engineering point cloud surface conversion and integrated documentation. You do your complete project in one file.
ZW3D Lite offers all of the incredible solid modeling on the order of Solidworks. It has robust primitive shapes that increase productivity 30% along with sophisticated sketching. It also includes direct edit functionality. It has one unique feature that makes it stand out from the rest of the history based solid modeling packages. It can have the parts, assemblies and drawings all in one file. IronCAD has an external drawing module. This is a great add-on for INOVATE to provide drawings or documentation.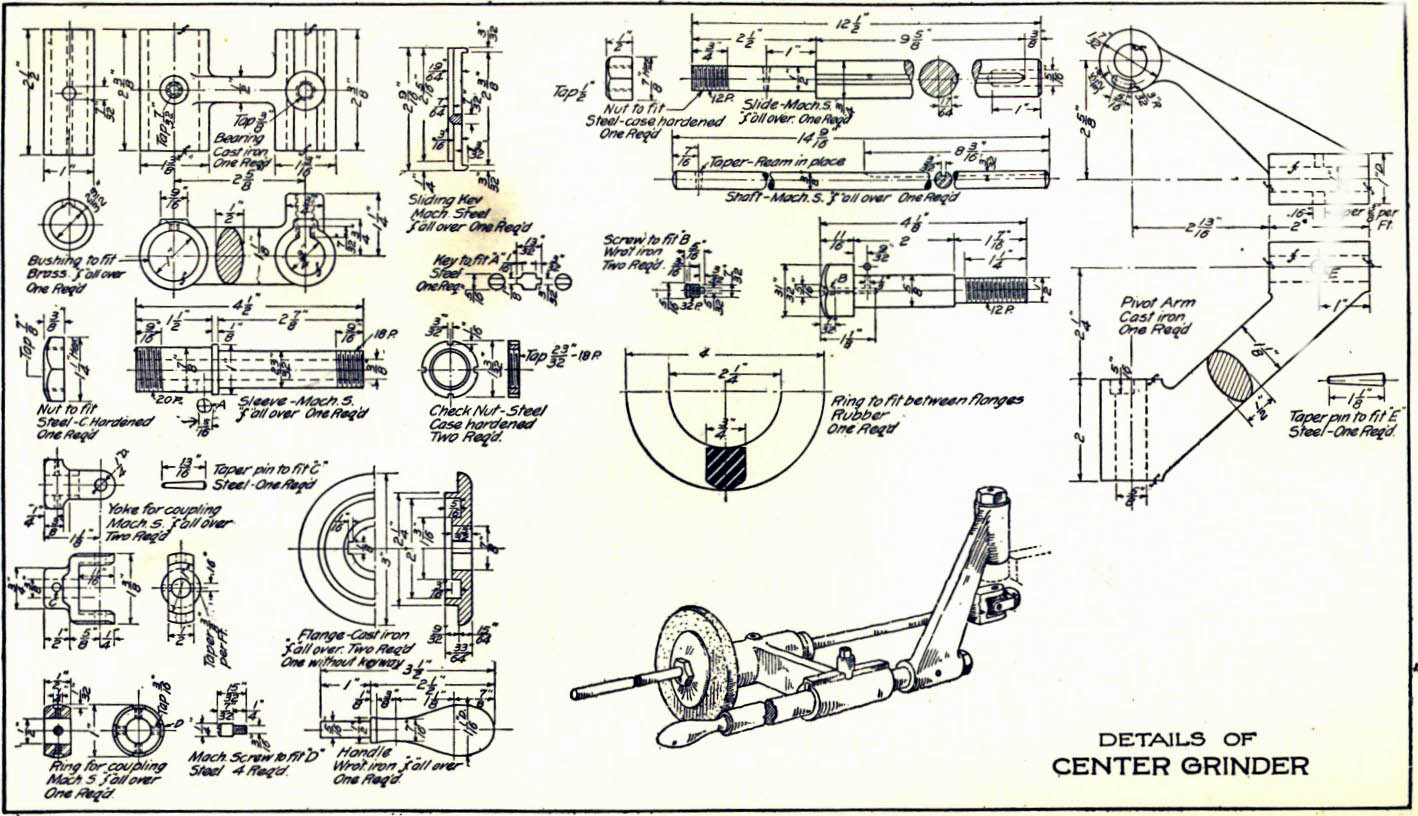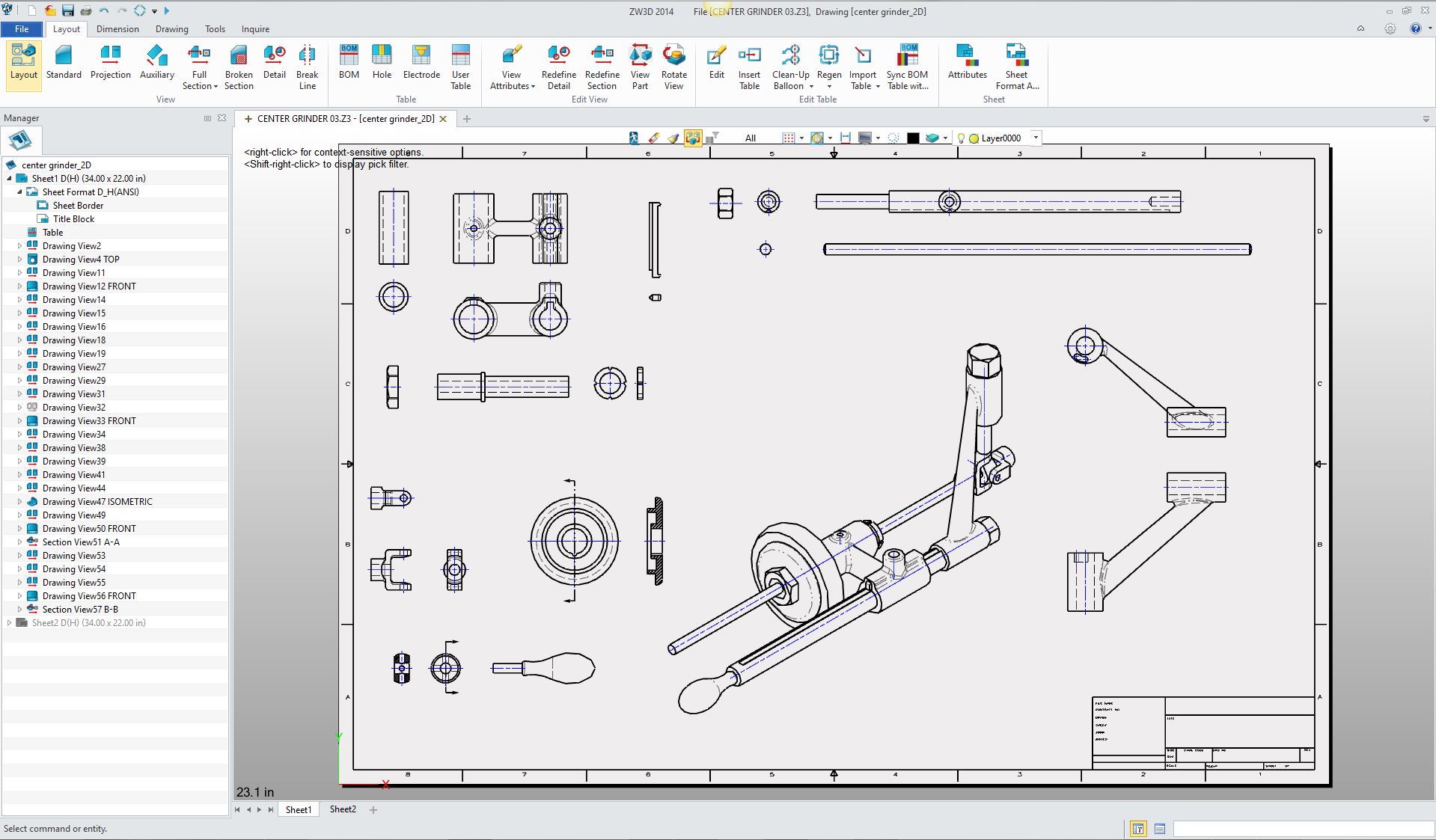 ZW3D Standard is by far the most cost effective CAD solution available. It adds Free Form Class A surfacing, Shape Morphing/Wrapping, sheet metal and reverse engineering to the Lite package. With the surfacing being integrated with solids and wireframe design it moves to the level of a Hybrid Modeling solution.
Advanced Surfacing - Surfacing only
Let's take a look at an advanced surfacing program such as Alias. It is much more difficult to do product design with a surfacing only package. It is composed of 2D/3D wireframe and surfaces. You have most of the commands you use in solid modeling. Extrude, Spin, Sweep and Loft. Solid modeling is a much better process to do the basic product design. I have found the advanced surfacing experts are really not designing but tweaking designs to assure that the surface produced is aesthetically pleasing. These are not your run of the mill designers, they are sculpturing professionals. I would say that advanced surfacing is required by only 5% of the industry.
I was lucky enough to have two intro classes on Alias presented by Autodesk Alias application engineers. They taught us how to make a Snowman. Actually this was a mechanical engineering bunch and we just shook our heads, knowing we could make a snowman much easier in a solid modeler. Alias does, however, have the most bizarre user interface I have ever seen. I got to play with it and the learning curve is very long. This is a professional package that takes years to master.
Take a look at the reverse engineering job on a 1959 Corvette Bumper. I could not get the correct surfaces and had to go to an Alias expert.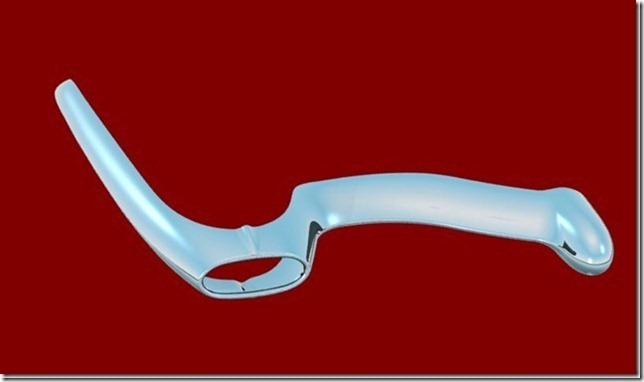 REVERSE ENGINEERING SUCCESS!
1959 Corvette Bumper
As you can see this was beyond the CAD system I was using.
How about Rhino? I have taken a class in Rhino. It was a week class and we spent most of the time making a Duck. I was selling mechanical CAD and I just scratched my head. Sadly, not one moment was dedicated to mechanical design. I guess that pushing and pulling an odd shape in some form is what the common surfacing person does. The product was a bit too Autocadish for me and even though I had a copy I never utilized it having most of its surfacing capabilities already available ZW3D.
Rhino's solid modeling really does not exist. Boolean only solid modeling design has completely disappeared and is completely unproductive.
Now let me introduce you to Hybrid Modeling
Hybrid modeling allows wireframe, surface and solids to coexist in one useable space. This is where the major CAD programs are heading next. But with their structured design process they may not be able to integrate it into their existing products. Dassault may be the first to confront this inadequacy in Solidworks with the introduction of Product Designer. This looks like an attempt to incorporate robust direct edit functionality. But I am not sure who would use this package, both of my solutions easily outperform it and at an annual cost of $2,988.00 it does not seem to be cost effective. I have yet to see anyone using this product. They do not offer an evaluation without talking to a salesman. Who wants to talk to a salesman?
CONCEPTUAL DESIGN - Which CAD Paradigm is Best?
Hybrid Modeling in ZW3D with "Best in Class Overdrive Kernel"
---
This is the most incredible presentation of Hybrid CAD modeling you will ever see. If there is a "Master" in the art of CAD, Selcuk Ozmumcu is it.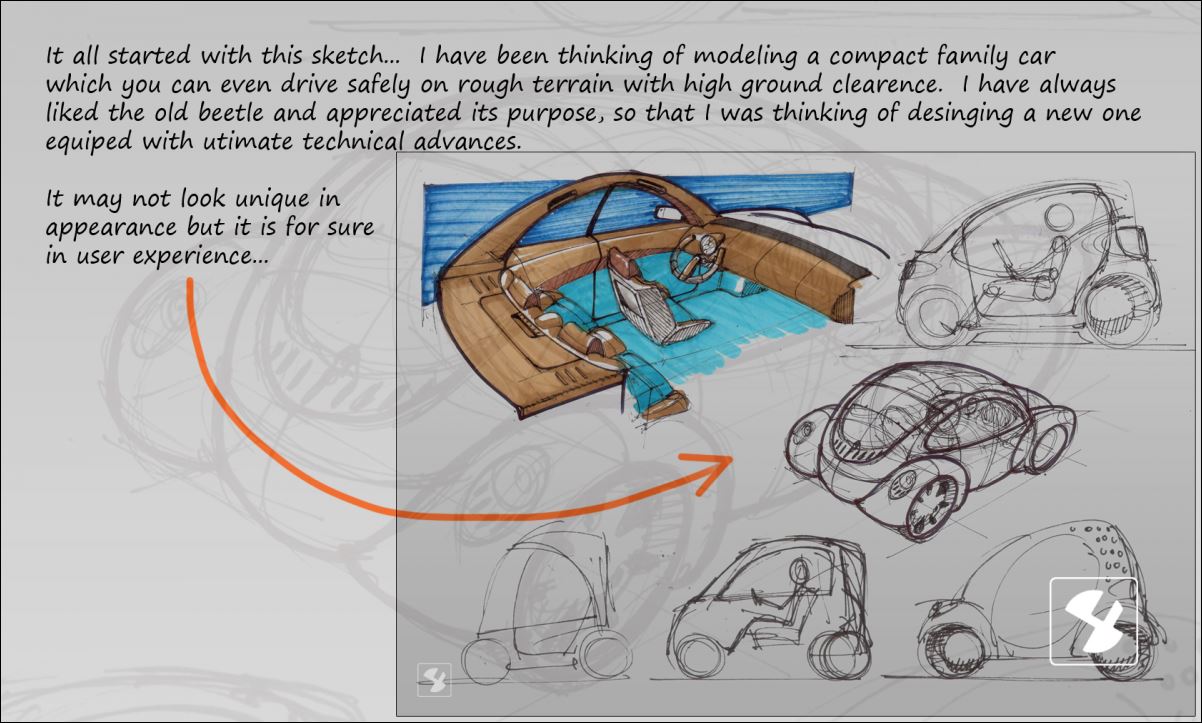 Watch this slide show as Selcuk designs a car before our eyes!! Truly, amazing. Using all of the graphic tools Hybrid CAD has to offer.
Spherical | Modeling Process Slide Show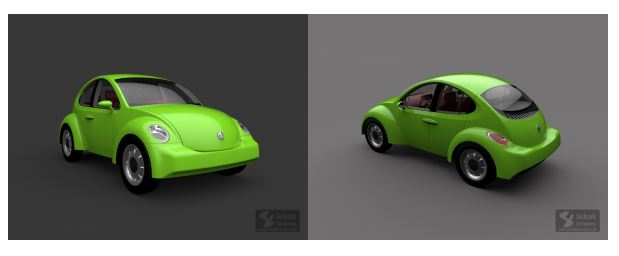 Spherical | Colors Set

Selcuk Ozmumcu incredibly creative and is the most proficient and prolific modelers I have ever met. He is a professional Solidworks user and has now moved to ZW3D, fully utilizing the Hybrid Modeling including Wire Frame, Surfacing and Solids.
Here is what he said when I asked him why he moved:
"Regarding CAD packages, yes, I had learned and used Catia. It is not so user friendly at all. I have learned it at advanced level, and Alias as well. I would not recommend them. Because I had learned them when I was already using SolidWorks. Considering that I have done everything on my website only with SolidWorks, I had never thought of using both of them. Alias is not practical at all and it is not a parametric CAD system. Catia is so powerful, but if it is just for modeling, you don't need it. SolidWorks was enough. But now I have met with ZW3D, for advanced surface modeling, it is far beyond SolidWorks."
"I had been using SolidWorks for aircraft modeling since 2006 and had started using it since 1999. Never thought about them for modeling after SolidWorks implemented surface modeling tools. Now with ZW3D, Surface modeling is even faster and reliable."
Watch as Selcuk designs the P-40
Here is a couple of the final images of his P-40.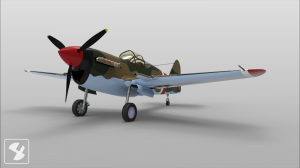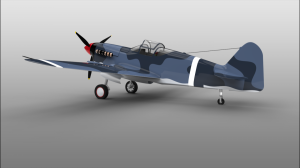 Please visit his website to see more of his incredible aircraft and other 3D models.
Now to continue with the article and show you some of the reasons why Selcuk moved to from Solidworks to ZW3D Standard.
Beyond Direct Edit: Surface and Hybrid Modeling
Besides being a great Conventional History and Direct Edit design, ZW3D offers much more design flexibility with its powerful surfacing, morphing and wrapping.

• Class-A surface modeling, such as: Blend face, UV curve mesh
• Surface matching, merging, smoothing and control point editing
• N-Sided & FEM blends with continuity control and gap detection
• Smart surfacing - rails, splines, drive curves
• Advanced lofting & variational sweeps
• Emboss a high precision surface from a raster image
• Support solid, surface and STL data to do flexible morphing and wrapping

All of this power, not costing tens of thousands, but at a cost all can afford!!
ZW3D is very similar to NX in performance and capability at thousands less. It is very easy use since it handles parts within assemblies much better and able to do complete projects in one file. IronCAD/INOVATE offer a much easier paradigm for conceptual design, but when you have to step out of the solid modeling box, ZW3D offers that extra flexibility. You truly want to end up with a solid model. Especially if you have to deliver the model to a client or mechanical designer for further development.
---
It is important to show you real life projects as it relates to CAD outside the realm of the Pro/e Clones. Take a look at this projects. You can see other projects at our Engineering Services.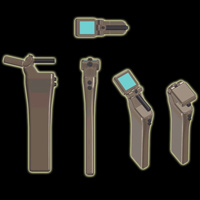 The Prototek Linefinder
Producing a better design? 3D printing in the 1990's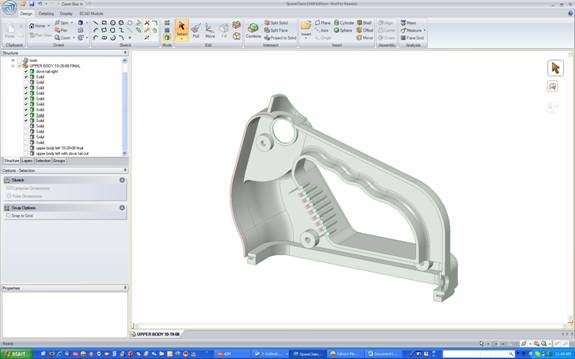 Prototek Redesign
Direct Editing in Action, the original design package was not used for this modification.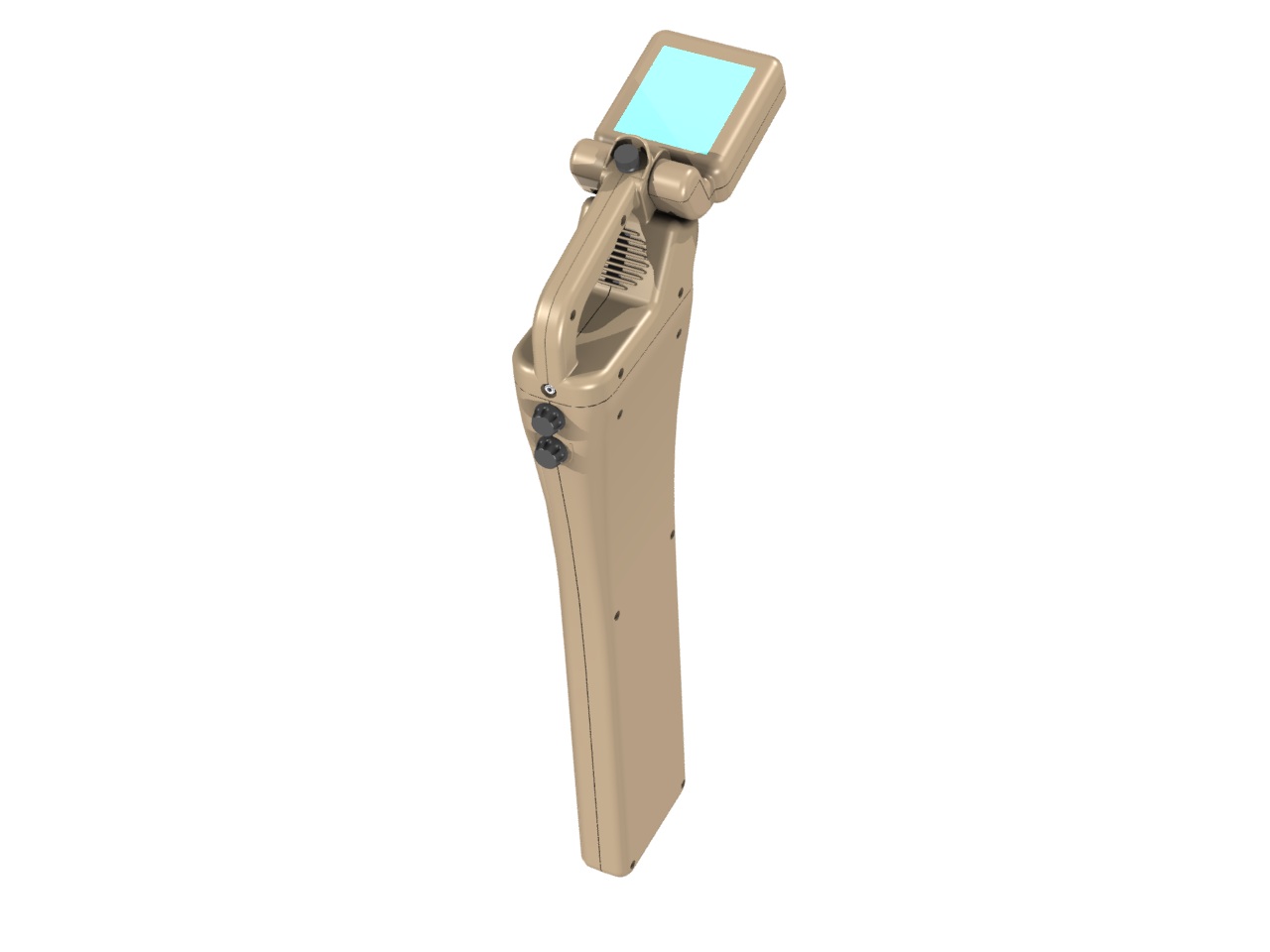 Prototek Project Reviewed
Is it Live or is it Memorex
---
Our CAD Solutions
With our CAD solutions you can start providing your own design services, competing with and even outperforming the largest Industrial Design Firms at a price you can afford. We can start you at any level. If you have a large design firm you can lower you CAD costs and increase your productivity.
With our CAD translators you can read the native files from *Creo (Pro/e), *NX, Solid Edge, *Solidworks and Inventor. Read/write Catia 4/*5 and all of the standard format.
* Includes the ability to read PMI
Universal CAD Compatibility is "NOT" Here!
---
TECH-NET Engineering Services!

We sell and support IronCAD and ZW3D Products and
provide engineering services throughout the USA and Canada!
---
If you are interested in adding professional hybrid modeling capabilities or looking for a new solution to increase your productivity, take some time to download a fully functional 30 day evaluation and play with these packages. Feel free to give me a call if you have any questions or would like an on-line presentation.

Joe Brouwer
206-842-0360