So what is the state of engineering documentation?


Engineering Documentation Today!
So What "HAS" Gone Wrong with Engineering?
So what "HAS" gone wrong with Engineering?
Part II
So, what "HAS" gone wrong with Engineering? Part III
We haven't made a Drawing
Since 3D CAD was Introduced
!
I will use Boeing for the bad example of how this convoluted system came to be.
Boeing got rid of the drafting group and the document control years ago. They put engineering in the hands of Dassault and their convoluted Catia 5 PLM. They transitioned at a time when Boeing was delivering the 3D model and a paper prints generated from the 3D model to the suppliers. Do you ever wonder why they keep bringing up paper all the time when we have been releasing our AIDs (drawings) as PDFs for the last 17 years?
It is shocking that Boeing would get rid of Drafting as a standard process. Some ones still has to do the drafting. Engineers never made drawings, but as they became 3D CAD engineers and now responsible for the documentation, drafting as a standard function should have still been in place. Today, with PMI, those that don't have any engineering design and documentation experience are trying to recreate the wheel, and, of course, have failed.



Educating the New 3D CAD Engineer
Engineering Yesterday & Today
Engineer's Job Description
The Search for the Purple Squirrel
Even though we have been delivering our AIDs (drawings) as PDFs they are still calling them paper drawings. It is better than them calling them "2D" paper drawings. I really hate the moniker "2D Drawings". I mean, what other kind of drawings are there? It is so stupidly redundant.
I was supporting Boeing and virtually every Boeing supplier with PC Based 3D CADKEY. I was getting calls telling me that Boeing was not delivering prints. Boeing did this without any warning or a transition process. The suppliers were on there own. There was no way to view the PMI.
The only solution was to purchase a seat of Catia 5 or Enovia, the viewer. I think the cost of Enovia was $5,000.00. The suppliers were up in arms. But Boeing just said if you can't do it, we will take you off the list. Of course, all of the suppliers were in the same boat so the cost of the parts started going up. It cost Boeing more to produce the documentation and cost the supplier more to duplicate the documentation resulting in increased manufacturing costs.
CADKEY soon provided the ability to read Catia 4 and 5 native files, but not the PMI. Most suppliers were just working around Boeings requirements. Soon, Boeing realized that the parts were not being read correctly, Catia 5 delivered some of the most corrupt parts and now needed to have a validation report for all parts. This required a 3rd party validation software package, price $5000.00. The cost kept going up.

Compare and Validation Programs?
Band-Aids for Self Inflicted Wounds!
Can the 3D Model Be Used as the Design Authority?
Corrupt 3D CAD Parts
Quoting Tools: CAD Dimensioning
Another Band-Aid for MBE!
Adobe even released Acrobat 3D that would read the PMI and deliver the part as a STEP just with an Adobe Reader. But Boeing was set on the suppliers being able to read the Catia 5 native file. Adobe discontinued the product.
There are 5 major 3D CAD programs, each is putting out its own native PMI. There is an idiotic attempt to create a STEP format. But you still have to create the STEP file (this should be a DUH, moment). Could we use the STEP as the engineering deliverable? Trust me, that concept is far beyond the folks that are researching this. Do you think there is a draftsman in the bunch? You must be kidding, most don't even have an engineering degree and have never worked in the industry.
The native CAD file cannot be used as
a standard engineering deliverable!
Take a look at this convoluted waste of time. I have downloaded these and will have another PMI vs AID Part II. Go ahead download some of the native PMI files or the STEP files and read them, if you can. All we did was add the 3D model. In the past the drawing was the only document needed, what is so hard to understand? I am now convinced, engineering was more cost effective when the engineering authority was based on the manual drawing.
MBE PMI Validation and Conformance Testing Project
Funny as it may be, I represent a 3D CAD program that can directly read the PMI from Catia 5, NX, Creo and Solidworks and utilize the 3D model. And it seems to work well enough to view the PMI documentation and 3D model. I don't think even the high end programs can read each others PMI, otherwise why all this research into STEP and other translators?
Free PMI Importer?
Here are some images of PMI imported with ZW3D.
Catia 5 PMI Creo PMI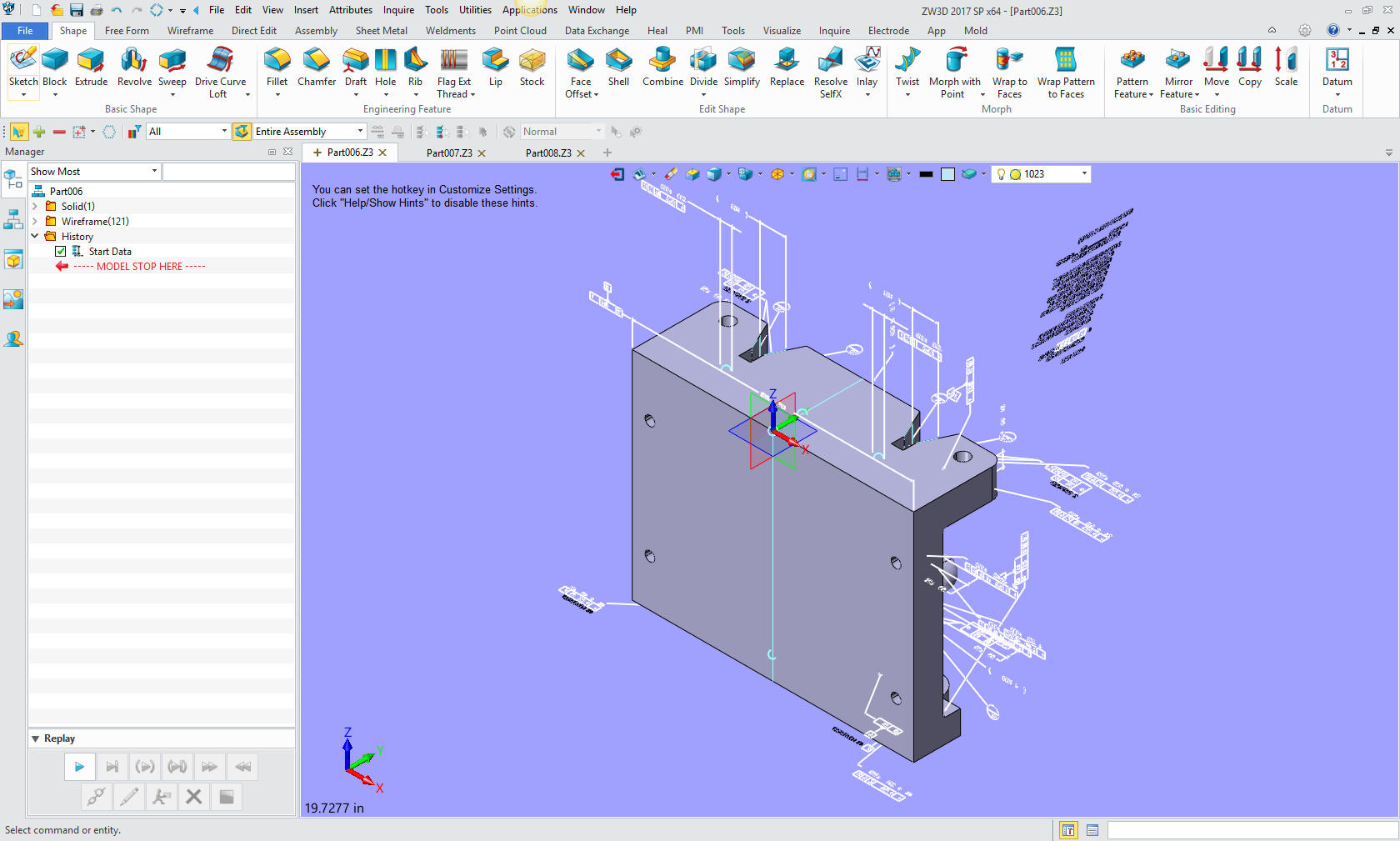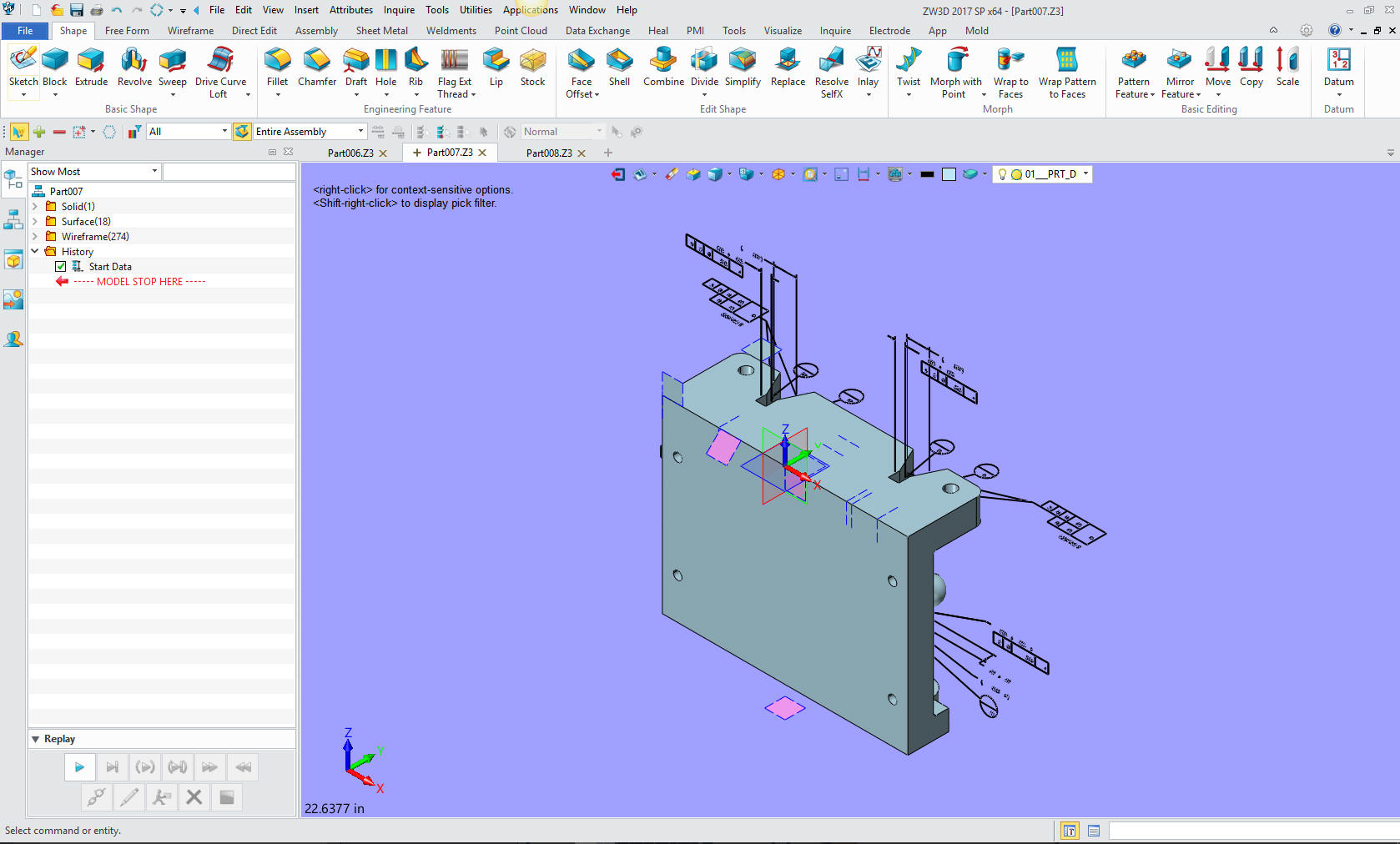 Solidworks PMI NX PMI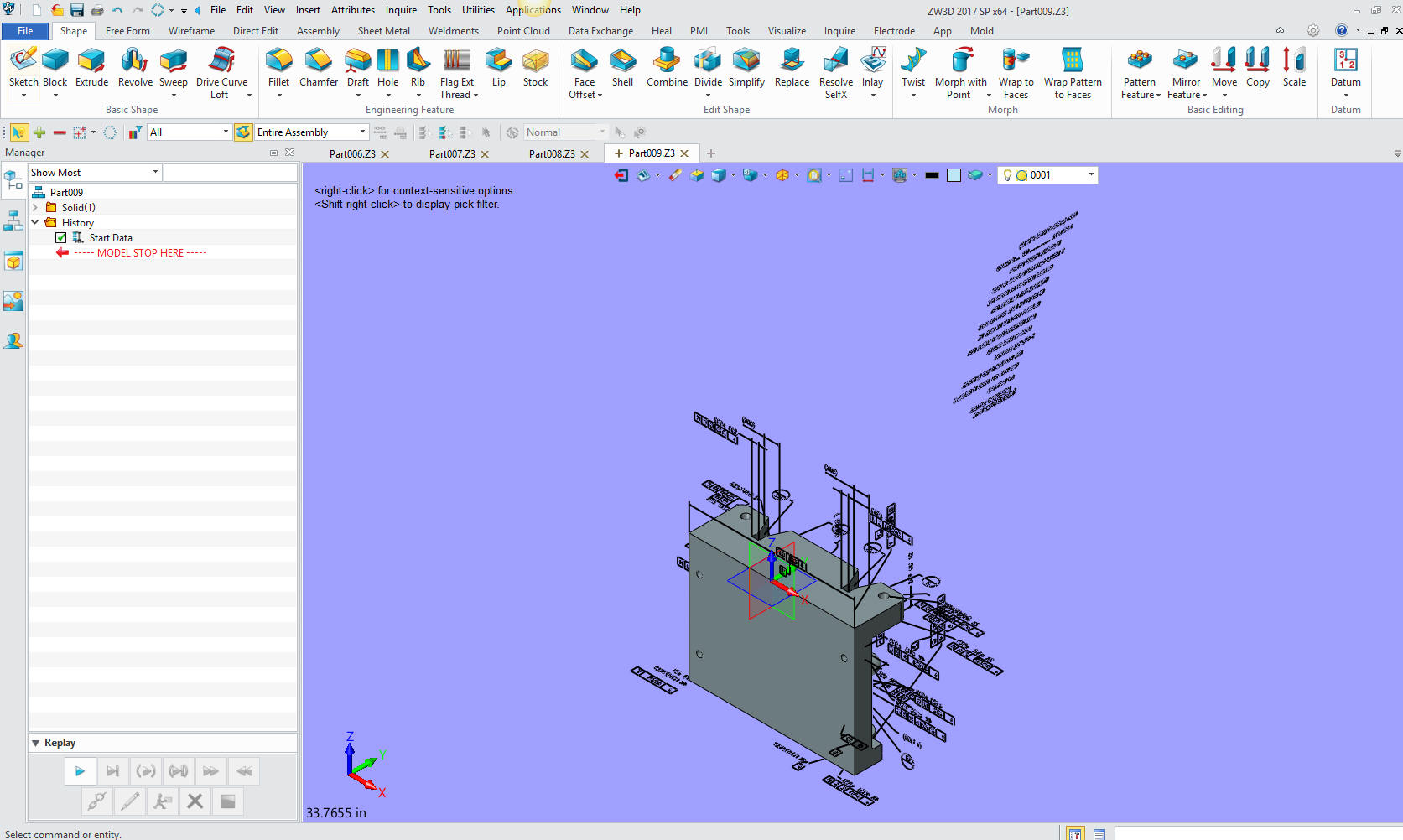 Looks like Catia and NX provide the best translation.

Interestingly enough I replaced two Solidworks seats with ZW3D. I had to investigate how they could view the AIDs (drawings). I found the edrawings 2017 program adequate. Funny thing they could not effectively read the PMI of their own product, it was quite corrupt.

I got curious and decided to look at Creo. They have a good viewer also. It also did not read the PMI.

I will be doing an article about replacing of the major programs with ZW3D, especially Autodesk and PTC with their Subscription only model.



You are Not Stuck with Autodesk or PTC Subscriptions!



I know, most of you know I could go on and on and on, but for those of you that have not been so lucky, here are some more articles on the industry from the quintessential draftsman.